For Clients & Friends of The Gualco Group, Inc.
IN THIS ISSUE – "In California, We Will Not Back Down"
ACTION RESUMES IN SACRAMENTO
AIR & WATER & FOOD
A PIONEER QUIETLY PASSES…
FOR THE WEEK ENDING JULY 24, 2020
Capital News & Notes (CN&N) harvests California legislative and regulatory insights from dozens of media and official sources for the past week, tailored to your business and advocacy interests.  Please feel free to forward.
READ ALL ABOUT IT!!
House Seats & Electoral Votes at Stake, So California Dems Gird for Census Battle
Sacramento Bee
California Democrats vowed to fight a policy change from the Trump administration that would exclude undocumented immigrants from the 2020 census, potentially depriving the state of the federal funding and political power that is tied the decennial count.
California, home to an estimated 2 million undocumented immigrants, has a lot to lose if the Trump administration carries out the policy.
In response to the memo, California Gov. Gavin Newsom said the action to exclude undocumented immigrants in the census count was rooted in "racism and xenophobia."
"In California, we will not back down from our historic work to achieve a fair and accurate Census count," he said in a statement. "To all Californians, including members of our immigrant communities, know that this is your home, and it is your right to be counted here."
The memo comes nearly a year after The Supreme Court struck down the Trump administration's argument to add a citizenship question to the U.S. census. California leaders fought that policy, too, arguing it would cause undocumented people to fear the census and not participate in it.
"President Trump already lost in the Supreme Court trying to sabotage a complete and accurate census count. This latest attempt is even more flawed and transparent," said California Attorney General Xavier Becerra.
The Trump administration in a memorandum announcing the policy argues that the Constitution does not define which persons must be included in the apportionment base and that it is up to the discretion of the executive branch to determine who qualifies as an inhabitant.
The administration says they should not be counted in the census that determines how many congressional seats each state receives. California has 53 seats in Congress and demographers anticipate that the state will lose one after the census.
"Many of these aliens entered the country illegally in the first place. Increasing congressional representation based on the presence of aliens who are not in a lawful immigration status would also create perverse incentives encouraging violations of Federal law," according to the memorandum. "States adopting policies that encourage illegal aliens to enter this country and that hobble Federal efforts to enforce the immigration laws passed by the Congress should not be rewarded with greater representation in the House of Representatives."
California is home to five of the 20 metropolitan areas with the largest undocumented immigrant population including Los Angeles, Riverside-San Bernardino, San Francisco, San Diego and San Jose.
Immigrant advocates say they plan to continue census outreach.
Focused on increasing Latino participation in the census count, Samuel Molina, California state director of Mi Familia Vota, said the national civic engagement organization had already been educating community members that the census did not include a citizenship question.
Molina said the announcement doesn't deter them from their goal of obtaining an accurate census count. He called the policy order a "scare tactic," as it is not clear how an individual's immigration status would be verified.
"Two million people not getting counted in the census is enough to just lose a congressional seat which is an electoral vote … which is not what we want," Molina said. "We need everyone to be adequately reflected in the census."
Due to the coronavirus outbreak, the census count's deadline was extended to the end of October.
Thomas Saenz, president and general counsel of the Mexican American Legal Defense and Educational Fund, is confident the courts will halt the policy.
"Trump has already engaged in so many scare tactics on this issue that it is unlikely that this specific memo will do any more in that regard," he said.
Last year, the group joined a lawsuit in a federal court against the federal government on behalf of registered Latino voters after the state of Alabama filed a lawsuit challenging the Census Bureau's policy to include all U.S. residents, including undocumented immigrants, in census counts to apportion congressional seats and electoral college votes.
"We are already in court on this issue, because we anticipated that this administration would do something as lawless as this," Saenz said.
Assemblywoman Lorena Gonzalez, D-San Diego, said she does not expect the state to comply with the policy order.
"We have told immigrants their status will not be used against them, and that includes being used against them to deprive them of representation," said Gonzalez, chairwoman of the California Latino Legislative Caucus.
https://www.sacbee.com/article244391692.html#storylink=cpy
California Takes Trump to Court, 85 Times And Counting
CalMatters
California Attorney General Xavier Becerra filed three lawsuits against the Trump administration this week, bringing his total to 85 so far. July has been litigious for Becerra, who already sued the federal government three times this month, according to a CalMatters tracker.
Most recent this week:
A challenge to the Trump administration's rollback of a provision of the Affordable Care Actthat prohibited health care systems that receive federal funding from discriminating against transgender and gender non-conforming patients, as well as those who have had abortions or are seeking reproductive health care.
A challenge to the U.S. Department of the Interior's decision to resume leasing federal land for coal mining, arguing it didn't conduct a satisfactory environmental review.
A challenge to the U.S. Environmental Protection Agency's final rule thatdevalues the regulation of mercury emissions for coal- and oil-fired power plants, arguing it puts people's health at risk.
https://calmatters.org/politics/2018/03/becerra-v-trump-california-using-courts-fight-administration/
State GDP Drops; Tax Revenue Up…So Far
California Dept. of Finance
California real GDP decreased by 4.7 percent on a seasonally adjusted annualized basis in the first quarter of 2020—the largest decrease since the second quarter of 2009. In comparison, U.S. real GDP declined by 5.0 percent in the first quarter of 2020—the largest decline since the fourth quarter of 2008.
California's unemployment rate rose to a record- high 16.4 percent in April and May before decreasing to 14.9 percent in June, and is now
11 percentage points higher than the pre-recession low of 3.9 percent in February. The U.S. unemployment rate increased to a record-high 14.7 percent in April before decreasing to
13.3 percent in May and to 11.1 percent in June, compared to the pre-recession low of 3.5 percent in February. The state's labor force increased by 441,200 persons in June, after decreasing by over
1 million persons over the prior three months, resulting in 568,000 fewer Californians in the labor force in June than in February.
The state lost a total of 2.6 million nonfarm jobs in March and April, but gained about one quarter of total losses, or 692,400 nonfarm jobs in May and June, as the economy reopened. Despite June's record gain of 558,200 jobs, California's nonfarm employment of 15.7 million remains 11 percent below February's pre- recessionary peak of 17.6 million (a 1.9-million net job loss from February to June). California's June nonfarm employment is 1.7 million lower than three months ago and 1.9 million lower than six months ago.
All 11 major industry sectors incurred job losses from February through June: leisure and hospitality (632,200); trade, transportation & utilities (283,500); government (226,500); professional & business services (208,300); educational & health services (200,000); other services (140,100); manufacturing (97,800); information (75,900); construction (48,000); financial activities (20,400); mining and logging (400).
After falling in May to the lowest level since the Great Recession, California sales of existing, single-family homes rebounded in June, increasing at a record 42.4-percent over the month to a seasonally adjusted annualized total of 339,900 homes sold in June. However, this remains 19.4 percent below February's level of 421,700. The statewide median sales price reached a new record high of $626,200 in June, an increase of 6.5 percent from May and 8.0 percent from February. This is 1.4 percent higher than the previous record high of $617,400 reached in August 2019.
Preliminary General Fund agency cash receipts for the entire 2019-20 fiscal year are $1.084 billion above the 2020-21 Budget Act forecast of $123.395 billion, or 0.9 percentage point above forecast. Cash receipts for June were $1.054 billion above the month's forecast of -$94 million, which includes a transfer out of
$9.5 billion of federal CARES Act funds that had been transferred to the state General Fund in April. In addition, much of the tax payments that are typically made in April and June were deferred to July due to the extension of payment deadlines.
Personal income tax cash receipts for the entire 2020-21 fiscal year are $662 million above the forecast of $81.845 billion. Cash receipts to the General Fund in June were $892 million above the month's forecast of $5.353 billion. Withholding receipts were $1 billion above the forecast of $4.044 billion. Other cash receipts were $477 million higher than the forecast of $1.991 billion. Refunds issued in June were $569 million above the expected $585 million. Proposition 63 requires that 1.76 percent of total monthly personal income tax collections be transferred to the Mental Health Services Fund (MHSF). The amount transferred to the MHSF in June was $16 million higher than the forecast of $96 million.
Sales and use tax cash receipts for the entire 2019-20 fiscal year are $643 million above the forecast of $25.426 billion. Cash receipts for June were $683 million above the month's forecast of $1.719 million. June cash includes the second prepayment for second quarter taxable sales.
Corporation tax cash receipts for the entire 2019-20 fiscal year are $49 million above the forecast of
$9.787 billion. Cash receipts for June were $71 million above the month's forecast of $1.129 billion. Estimated payments were $2 million above the forecast of $1.072 billion, and other payments were
$87 million higher than the $150 million forecast. Total refunds for the month were $18 million higher than the forecast of $94 million.
http://dof.ca.gov/Forecasting/Economics/Economic_and_Revenue_Updates/documents/2020/Jul-20.pdf
Pandemic Recession Hits County & City Coffers
Bankrate
Recessions are like forest fires. Their flames hop effortlessly from one tree to the next, toppling entire wooded areas if they go unextinguished.
That's essentially been the synopsis for the coronavirus-induced downturn. What started as distress in tourism and hospitality soon engulfed retailers, restaurants, and now, state and local governments — one corner of the diverse ecosystem that is the U.S. economy at risk of adding more fire to the flame.
Battered by the twin blows of declining tax revenues yet soaring health care and unemployment costs, state and local governments are currently hard-pressed to hit their balanced-budget requirements. The sector employs about an eighth of all U.S. workers and accounts for nearly a tenth of the economy, meaning any cutbacks to get through the trouble could hold back the recovery from the worst economic crisis since the Great Depression, similar to what happened during the last downturn more than a decade ago.
"State and local governments went into this year expecting things to be pretty easy," says Tracy Gordon, senior fellow at the joint Tax Policy Center between the Urban Institute and the Brookings Institutions, whose research focuses on fiscal challenges facing municipalities. "Instead, they're faced with this once-in-a-lifetime challenge, on the heels of the Great Recession, which everyone then thought would be a once-in-a-lifetime challenge."
Here are five ways a state's budget shortfall could negatively impact your wallet, whether you live there or not.
https://www.bankrate.com/banking/federal-reserve/how-state-local-budget-crisis-could-hit-finances-taxes-layoffs/?utm_campaign=2020-07-21+Squeeze&utm_medium=email&utm_source=Pew
"How Could They Be So Off?" Newsom's Flawed MediCal Forecast Disrupts Healthcare Funding
California Healthline
The predictions were dire: Coronavirus lockdowns would put millions of Americans out of work, stripping them of their health insurance and pushing them into Medicaid, the health insurance program for low-income people.
In California, Gov. Gavin Newsom's administration projected that the pandemic would force about 2 million additional people to sign up for the state's Medicaid program, called Medi-Cal, by July, raising enrollment to an all-time high of 14.5 million Californians — more than one-third of the state's population.
But July is almost over, and Medi-Cal enrollment has hovered around 12.5 million since March, when the pandemic shut down much of the economy — though enrollment ticked up in May and June, according to the latest data from the state Department of Health Care Services, which administers the program.
Essentially, enrollment hasn't budged even though nearly 3 million Californians are newly unemployed.
"It's a mystery," said Anthony Wright, executive director of Health Access California, an advocacy group for health consumers. "We have lots of plausible explanations, but they don't seem to add up."
Even the state is stumped. The enrollment data is preliminary, and Medi-Cal officials expect the numbers to grow as eligibility appeals and other "unusual cases" are resolved, but not by 2 million people, said Norman Williams, spokesperson for the Department of Health Care Services.
The department based its projections on the state's experience with the Great Recession a decade ago, a comparison that it now acknowledges was misguided because the pandemic did not spur a purely economic crisis. The state failed to predict people would avoid care at clinics and hospitals during this public health crisis, and thus be less likely to need coverage immediately.
"The current situation is far more complex because it involves both economic and health decisions, creating a more complicated picture more closely related to that seen during the 1918 influenza pandemic," Williams said in a prepared statement.
Even with the faulty comparison, it's not clear why more Californians haven't enrolled, he said.
"The state prepared an estimate based on the best data available, during an unprecedented and rapidly evolving situation," he said.
The miscalculation meant the state likely allocated more money to Medi-Cal than the program now needs, even as lawmakers struggled to find ways to prevent deep health care cuts and close a massive $54 billion budget deficit as they negotiated the 2020-21 state budget in May and June.
And a more accurate estimate could have potentially funded new programs, such as expanding Medi-Cal to unauthorized immigrants age 65 and up, some state lawmakers and advocacy groups said.
Newsom backed that expansion of Medi-Cal, estimated to cost $80.5 million in the first year, in his January budget proposal but abandoned it in May, citing California's financial crisis spurred by the pandemic.
"We are talking about life-or-death services, so to say I'm frustrated is putting it mildly," said state Sen. Holly Mitchell (D-Los Angeles), who chairs the Senate budget committee and leads budget negotiations in the upper house. "It's irritating to me that they can be so off."
The new state budget puts Medi-Cal's overall cost at $115 billion, of which $2.4 billion in state money has been earmarked for caseload growth. Yet it's unclear how much of that could have been available to fund other programs or stave off cuts had the caseload projection been more accurate, department officials acknowledged.
Most states predicted their Medicaid enrollment would rise due to the pandemic, though many are seeing similar delays in Medicaid sign-ups, said Cindy Mann, a partner at the legal and consulting firm Manatt Health who served as federal Medicaid director for the Centers for Medicare & Medicaid Services during the Obama administration.
Washington state, like California, hasn't seen its Medicaid caseload grow as expected, said MaryAnne Lindeblad, its Medicaid director. It projected up to 95,000 people would join the program by now, yet it has seen 80,000 new enrollees since March.
"It's been a little bit surprising," she said. "There's so much going on in people's lives right now and signing up for Medicaid doesn't seem to be one of them."
Yet a record number of Americans have lost health insurance as a result of the COVID-19 pandemic and corresponding economic crash, according to a new report from Families USA, a national health advocacy group. California experienced the largest increase in newly uninsured residents of any state so far when an estimated 689,000 people lost coverage between February and May this year, the study shows.
"It's a different kind of downturn and that might explain some of the reason we're seeing lags across the country," Mann said. "But unless unemployment numbers turn around dramatically, which is not the prediction, I think we will see the number of uninsured people continuing to grow and turn to the program."
There are several theories about why Californians who have lost their jobs during the pandemic have not yet enrolled in Medi-Cal.
For one, signing up for food and housing assistance appears "more urgent" than signing up for Medi-Cal, Williams said.
The pandemic has also created new sign-up hurdles. With libraries, schools, community centers and county health care offices largely closed during lockdowns, uninsured residents have had fewer places to enroll. Hospitals and clinics also frequently enroll uninsured people into the program, but many healthy people are avoiding treatment for fear of being infected with COVID-19.
And those who have lost jobs may still have work-based coverage because employers planned to rehire them and kept them on job-based insurance plans, or because they've signed up for COBRA insurance temporarily.
Enrollment could also be lagging because the service industry has been hit hard, and many low-income workers in restaurants, bars or salons were already enrolled in Medi-Cal.
https://californiahealthline.org/multimedia/medicaid-mystery-millions-of-enrollees-havent-materialized/
State's COVID Contact Tracers Still Awaiting Work
Sacramento Bee
Most California state workers trained to be COVID-19 "contact tracers" still haven't started tracking down people exposed to the coronavirus, even as many counties say they don't have enough staff to do the work.
California Gov. Gavin Newsom has frequently said state workers will be essential to the state's contact tracing efforts. Earlier this year his administration notified many state workers they would be reassigned from their usual jobs to help counties track infections. He's also repeatedly touted the fact that the state met its goal of training 10,000 contact tracers by July 1, which includes a mix of county and state workers.
As of last week, however, just over a third of the 3,600 state workers who were trained had been assigned to do that work, California Department of Public Health spokeswoman Ali Bay said. The assignment process is "ongoing" with more scheduled for this week, she said.
Some state workers completed their training months ago and are still waiting to be deployed.
In emails obtained by The Sacramento Bee, one state worker who completed his training in early May sent an email later that month saying he was still waiting for an assignment. Almost a month and a half later, an official with the California Department of Public Health responded saying workers were being assigned in phases based on need, but that there was no set schedule for when he might be used.
The worker, who declined to be named citing fear of repercussions at work, is among a handful of state workers who have told The Bee or posted on social media platforms Facebook and Reddit that they and their colleagues have been waiting a long time, in some cases months, to be assigned since completing their training.
In the meantime, counties throughout the state, from Sacramento to Orange County, say they don't have enough contact tracers to call every person who tests positive for COVID-19 and their contacts within 24 hours, the standard recommended by the federal Centers for Disease Control and Prevention.
Sacramento was among the counties allowed to reopen more quickly.
In forms filed with the state in May, the county said its staff were able to contact trace each new case they found even though they didn't meet the state's staffing target. Instead, the county detailed a plan to call on county employees from various departments, nursing and public health students at local universities and medical reserve corps volunteers to add more if caseload increased.
But the recent explosion in coronavirus cases has overwhelmed Sacramento's contact tracers, preventing them from thoroughly tracking each infection.
"It's very troubling, given the importance of contact tracing and suppressing the virus," state Sen. Steve Glazer, D-Orinda, said of the delay in deploying state-trained contact tracers.
Glazer, who has been critical of the administration's response, sent a letter to Newsom on Thursday expressing concern about the need for more contact tracers.
"Your early commitment to training 10,000 contact tracers to augment county efforts was impressive. However, it appears that even that many tracers will not be sufficient," he wrote. "As you know, without the resources to quickly track and notify those who have been exposed, our ability to control the spread of COVID-19 will be severely compromised."
In his letter, Glazer poses more than a dozen questions for the administration about contact tracing, including "Where have the state-trained tracers been deployed?" and "What metrics are the state using to measure whether the level of tracing is sufficient to control the virus?"
He said he's still waiting on a reply.
The state initially told counties they must have at least 15 contact tracers for every 100,000 residents before they could accelerate their reopening. But the Newsom administration allowed 17 counties to speed up their reopening without meeting that number, a Sacramento Bee review of county data found.
On Monday, California Health and Human Services Secretary Dr. Mark Ghaly said that those counties were allowed to reopen although they didn't meet the standard because they had plans to staff up.
"We knew that we were building up our contact tracing program," he said. "This was an opportunity to prepare around contact tracing."
Moving forward, Newsom said his administration will continue to train more people to be contact tracers. He said it's part of his plan to reopen schools safely, promising Monday to do "everything we can to make more robust the contact tracing efforts, particularly as it relates to school reopenings."
https://www.sacbee.com/news/politics-government/capitol-alert/article244362177.html?#storylink=cpy
Assembly & Senate Slow-Walk Back to Capitol Next Week; Remoted Voting OK'd
Sacramento Bee
Top California Democrats are asking lawmakers to consider pulling bills and limit policy hearings as they race to finish a 2020 legislative session that was disrupted twice by the coronavirus outbreak, according to a memo summarizing a recent call for lawmakers' chiefs of staff.
Hundreds of bills are awaiting votes, and the direction, if followed, could squeeze many of them out of consideration.
Lawmakers were originally scheduled to head back to the Capitol from a summer recess on July 13. After two Assembly members tested positive for the virus, that date was pushed to Monday over renewed health concerns.
The two-week setback exacerbated an already shortened schedule after the Capitol shut down for more than a month in March because of the outbreak. That recess also had to be lengthened due to concerning statewide case numbers.
The sprint to an Aug. 31 session deadline will require both the Senate and Assembly to cut policy committee hearings to just one meeting during the final month of session, according to the July 15 meeting memo obtained by The Sacramento Bee.
The Assembly will have two separate hearings per day in each hearing room, one in the morning and another in the afternoon, with a cleaning in between.
Because the Senate is scheduled to consider more bills, around 540 total according to the document, it will meet for policy hearings on Fridays and Saturdays.
Assembly Speaker Anthony Rendon, D-Lakewood, and Senate President Pro Tem Toni Atkins, D-San Diego, have differed throughout the 2020 session on how to legislate during a pandemic, especially on whether lawmakers could participate in voting remotely. Rendon had not pursued that option for his house, while Atkins had.
According to the document, Assembly members are being encouraged to pare their bills down if they have a dozen or more still alive. The memo states Rendon is urging his members to collaborate with Senate committee staff if they have priority bills that risk getting cut.
Rendon is not setting bill limits, however, spokeswoman Katie Talbot said.
During the final four weeks of the 2020 legislative session, lawmakers vulnerable to the worst of COVID-19 will be allowed to submit proxy or remote votes on bills at the cost of losing their daily pay if they select that option.
Rendon said he would allow proxy voting during floor sessions for the handful of members who might not want to return to Sacramento during the final month.
Under this limited circumstance, members would first have to get approval to stay home, then they'd submit their vote for a bill to the chief clerk's office the night before it's taken up. From there, only leadership — Rendon, Majority Leader Ian Calderon, Assembly Republican Leader Marie Waldron or Republican floor leader Assemblyman Heath Flora — could vote for the absent member.
"Given a spike in COVID-19 cases across the state, the Assembly is obliged to pursue safety with more stringent measures," Rendon said in a statement. "As a result, we will implement very limited proxy voting for floor sessions to allow our most vulnerable members to participate without being physically present on the Assembly floor."
Legislators are now scheduled to finish voting on the remaining bills during floor sessions from Aug. 17-31. Leadership has not discussed the potential for a special session with Gov. Gavin Newsom's office since early March.
Four vans with installed plexiglass are also being rented by the Legislature to transport members one at a time to the building. Masks are a continued requirement, as is limiting one person to the elevator and staying in assigned seats, according to the document.
Only one essential staff member per lawmaker had been allowed to work in the office, a protocol that will continue, the document states.
Because no COVID-19 cases have been reported in the building in the last week, per the memo, essential staff are being allowed back into the building as early as July 20. Hygiene products like Clorox wipes, sanitizer and gloves are also being offered.
It's likely staff will continue remote work through at least the end of the year, though that could change, according to the document.
https://www.sacbee.com/news/politics-government/capitol-alert/article244289762.html#storylink=cpy
and
https://www.sacbee.com/news/politics-government/capitol-alert/article244451897.html?#storylink=cpy
Legislature to Debate Equity Law for Corporate Boards
Sacramento Bee
As California corporations tout their efforts to address systemic racism and increase diversity within their companies, their boardrooms tell a different story.
Gains were made for more gender representation after former Gov. Jerry Brown signed Senate Bill 826 in 2018 to appoint more women on boards of directors. But people of color are still largely underrepresented.
It's why lawmakers say they have introduced Assembly Bill 979, which would compel public corporations headquartered in California to increase ethnic representation on their boards of directors or face fines from the Secretary of State.
"Clearly, the numbers are not what you'd expect them to be," said David Larcker, director of the Corporate Governance Research Initiative at Stanford Graduate School of Business. " It's a long-standing controversy."
While Larcker has seen advances when it comes to gender representation, he's observed less progress for African Americans and Latinos in both director and C-suite-level positions. Diverse candidates, he said, can bring unique perspectives to the decision-making process, "as opposed to a board where everybody went to the same schools and (has the) same socioeconomic background."
"It's just the right thing to do," he said.
Larcker, however, said he would rather see a market-based solution to increasing board diversity instead of having a law that mandates corporations to diversify their leadership or face fines.
If the bill is signed into law, publicly held companies without a director from an under-represented community could face fines between $100,000 and $300,000, according to the office of Assemblyman Chris Holden, D-Pasadena, one of the bill's sponsors.
About three years ago, Assemblyman Holden said he sought legislation that would have increased representation among Silicon Valley corporations.
"We've decided to bring it back, and to focus on it and broaden it so that it's not just on Silicon Valley, or on tech companies, but it would be inclusive of all corporations headquartered in the state," he said.
The bill's current language defines under-represented groups as African American, Hispanic and Native American.
The bill is expected to be updated next week, according to Holden's office, to include under-presented groups that self-identify as Asian, Pacific-Islander, Native Hawaiian and Alaska Native.
The bill would require a corporation to have one director from an under-represented group for companies with less than four members on their board of directors. Corporations with more than four directors, but fewer than nine, would have a minimum of two under-represented directors. A corporation with nine or more directors would require at least three directors from an under-represented community.
It could draw a legal challenge if Gov. Gavin Newsom signs it.
Anastasia Boden, a senior attorney at the Pacific Legal Foundation argues that bills that seek to increase a board's gender or ethnic make up are contrary to the U.S. Constitution's promise of equality.
"It forces people to make choices on the basis of race or sex in order to gain those numbers, which in themselves are not realistic about a world full of equal opportunity," she said.
Last year, Boden led a lawsuit, which a federal judge dismissed, challenging California's "woman quota" law on behalf of a shareholder in a security systems manufacturer. Boden said the Sacramento-based group has since filed an appeal.
California's largest public pension fund, the California Public Employees' Retirement System, uses a softer approach to encourage corporate board diversity.
CalPERS has not issued a public stance on AB 979, but identified improving corporate board diversity and inclusion in its Total Fund Governance & Sustainability 5-Year Strategic Plan.
The pension fund plans to use proxy voting and shareowner campaigns "to bring change where engagements have not led to positive outcomes."
Companies that show no response or an inadequate response could lead to CalPERS withholding votes from the board chair, governance committee members and long-tenured directors. On its website, CalPERS states it will support shareowner proposals related to diversity.
"Empirical evidence shows that companies with diverse boards and executives tend to have better financial performance than less diverse companies," CalPERS says on its website. "Better financial performance leads to better investment returns, which improves our ability to pay benefits."
A 2018 McKinsey & Company study of over 1,000 companies in 12 countries found that companies in the top quartile for gender diversity were 21% more likely to have higher financial returns. Companies in the top quartile for racial and ethnic diversity were 33% more likely to have higher financial returns.
Companies in the bottom quartile, with the least gender and ethnic representation, were more likely to underperform, according to the study.
"Gender and ethnic diversity are clearly correlated with profitability, but women and minorities remain under-represented," the study stated.
Women of color are still under-represented in California's boardrooms after passage of the 2018 bill.
A recent analysis of 662 California headquartered, public companies, conducted by the Latino Corporate Directors Association, found that 35% of the boards are all white. Of the 511 public board seats filled by women as of March 1, white women account for 77.9%, followed by Asian women, 11.5%, African American women, 5.3%, and Hispanic women, 3.3%.
https://www.sacbee.com/news/politics-government/capitol-alert/article244255597.html#storylink=cpy
Golden State Households Cut Carbon Emissions – New Study
San Jose Mercury & National Academy of Sciences
Is California — home to Tesla, solar panels galore and gobs of scientists — the green-energy paradise it's made out to be? A new, peer-reviewed study in the Proceedings of the National Academy of Sciences journal reinforces the idea.
Households here emit 33% less carbon than any other state, while only two other sunbelt states consume less energy, according to researchers at the University of Michigan, who analyzed the environmental impact of 78% of the nation's housing stock (about 93 million homes), using 2015 data.
San Francisco's household emissions were nearly three times lower than the national average — 1.03 tons of carbon dioxide per capita vs. 2.83 for the U.S. — and lower than any other major city included in the research paper. In Los Angeles, the average household contributed 2.28 tons of carbon dioxide for the year, compared to 3.64 in Oklahoma City, 3.11 in Denver and 2.69 in Boston.
One strong correlation to greenhouse gas emissions was geography.
Seven of the eight states with the lowest carbon emissions were in the Western U.S.: California (23 carbon dioxide equivalents per square meter of a house), Oregon (34), Washington (34), Utah (34), Idaho (37) and Nevada (40). All eight of the highest-emitting states were in the central and southern parts of the country: North Dakota (74), West Virginia (70), Missouri (69), Oklahoma (67), Kansas (65), Iowa (64), Mississippi (63) and Kentucky (63).
Examining data in 8,858 U.S. zip codes, researchers also found households in high-income neighborhoods contributed 25% more carbon dioxide than households in low-income neighborhoods. In the Los Angeles metro area, for example, the affluent Hollywood Hills, Brentwood and Sherman Oaks zip codes had among the most greenhouse gas emissions, while Inglewood, Fullerton and Huntington Park had some of the lowest.
"The tendency for affluence and (average floor space) to increase together is a key emissions driver for wealthier households," researchers wrote.
While increased density, commonly associated with a smaller carbon footprint, did show some correlation, the apparent effect from the income gap was far wider.
"Variation in (greenhouse gas) intensity among the ZIP codes likely reflects differences in climate, building characteristics, and carbon intensity of the electrical grid, such that the overall relationship between density and emissions is attenuated," researchers wrote.
Households in states with warmer climates consumed less energy, measured by kilowatt hours per square meter. The national average is 147 kilowatt hours per square meter, while Florida (97), Arizona (103) and California (109) had the lowest rates in the nation. San Francisco and Los Angeles consumed even less than the state, at kilowatt hours per square meter. and 103 kilowatt hours per square meter, respectively.
Researchers began with the goal of identifying where in the nation households are likely to need the most aggressive action to meet the 2025 and 2050 goals set forth by the Paris Climate Agreement. Residential emissions account for 20% of the total in the U.S., they said, and would by themselves be the world's sixth-largest polluter of greenhouse gasses, on the scale of Germany.
https://www.mercurynews.com/2020/07/21/california-way-ahead-in-game-of-life-and-death-carbon-emissions/
Study abstract:
https://www.pnas.org/content/pnas/early/2020/07/14/1922205117.full.pdf
Farmers Face Last-Minute Planting Decisions
AgAlert
Making planting decisions for fall and winter vegetables is hard enough without a pandemic and ever-changing shutdown orders dimming the crystal ball.
The state ordered indoor restaurant dining to cease again July 13 as coronavirus cases spiked around the state, prompting even more uncertainty for vegetable farmers in a growing season already rife with it.
"Up until a couple of weeks ago, we felt reasonably confident putting together a planting schedule that was fairly similar to previous years," said Steve Brazeel of SunTerra Produce, based in Orange County. "As we get closer, these decisions become more critical, as it looks like it will come down to the last minute."
He'll have to decide within the next couple of weeks what winter-vegetable crops to plant in the Imperial Valley. Ordinarily, those would include iceberg lettuce, romaine lettuce, green and red leaf lettuce, broccoli and cauliflower.
Brazeel said planting decision making normally starts with talking to customers about their expectations.
"What's going on now is, those initial conversations are just not clear, because of the situation of opening and closing and opening and closing," Brazeel said, noting he's likely looking at an across-the-board reduction of as-yet-undetermined scope.
The original shelter-in-place orders in March caused food-service orders to vanish seemingly overnight, forcing some farmers to plow under their crops. An economic study commissioned by the California Farm Bureau Federation and other organizations and conducted by ERA Economics found some Imperial Valley growers lost entire leafy-green crops worth millions.
Markets have been up lately, but they have begun to decline again, said Mark Shaw, vice president of operations at Markon in Salinas. Its main line of business is supplying fresh fruits and vegetables to the food-service sector.
"We just came out of a high market," during which iceberg lettuce sold for $18-19 per carton, and romaine for $25 or so, Shaw said. "Both of those markets are declining now—have been declining for the last two weeks."
The latest shutdown order restricts restaurants to outdoor dining, takeout and delivery.
"It is going to take away the food-service demand for lettuce, romaine, broccoli and cauliflower," Shaw said, adding that the shutdown will keep markets low, "lower than basic growing costs."
The latest shutdown order doesn't have an expiration date, leading Shaw to predict depressed markets could last into August, as restaurants don't know when they'll be able to resume indoor dining.
Brazeel said he's ready for a wild ride.
"I fully expect roller-coaster markets this winter on the wet vegetables, because of the reduced plantings, and then pockets of resurgence of volume—of restaurants reopening or schools utilizing it," Brazeel said. "I think that there's just as good of an opportunity of the market being really high as opposed to disastrous like it has been, just because decreased supply obviously will result in higher pricing."
Shaw said some farmers reduced plantings of leafy greens as the first round of shelter-in-place orders took hold.
"It's typically a 90-day crop from seed to emergence to harvest," he said, noting that people started backing off on acreage in March and early April. "That reduction started hitting about June 15."
With food service reduced and unemployment soaring, the U.S. Department of Agriculture launched the Farmers to Families Food Box program, which seeks to purchase farm products without any other market and route them to families in need via food banks. The program has invoiced 41.5 million boxes as of July 17, according to the USDA.
"That had an effect as well, driving those markets up because you had all these produce boxes that were being produced," Shaw said. "They were taking up available supply out of the Salinas Valley for lettuce and romaine and broccoli and cauliflower."
One Sacramento wholesaler, Produce Express, began putting together consumer boxes and selling them directly to the public shortly after the first shutdown order came. The boxes feature fruits and vegetables that otherwise had lost their markets.
"We've never done them before," said Jim Boyce, who runs the business his parents started in 1984. "We've been asked to do them quite often in the past."
The boxes, he said, were created out of several needs—moving produce that otherwise had lost its market, keeping his employees busy, and filling a void in the community at a time when going to the store was dicey because of long lines and product shortages.
Demand for boxes has declined from about 400 a day at the zenith to about 25 a day, Boyce said, adding that he doesn't foresee strong demand for them again until late fall or early winter.
"The reason I say that is because grocery stores, retail stores struggle with getting enough product on the shelves the farther product comes away from home," he said. "Right now, it's pretty easy to get broccoli overnight."
Boyce said he figures that as people return to work, they'll be less inclined to cook at home and will seek out takeout or delivery.
"What we're seeing is the people that are buying the boxes, and continue to buy the boxes, are more of what we call a 'foodie,'" he said. "They want a good-quality meal that they're going to fix with all-natural ingredients and do it their way."
He said he doesn't think the latest shutdown will affect box demand much, because restaurants can take advantage of summer weather to expand outdoor seating. He's concerned, however, about the farmers who supply his business.
"I can tell you the ones that I've talked to, they're as frustrated as I am," Boyce said. "We don't know how to plan for the future, let alone for tomorrow."
Brazeel said he's trying to maintain a sunny outlook for the winter crop.
"We have optimism and excitement going into the winter, just like we do every winter," he said. "There's always optimism when you plant, and then realism when the harvest time comes."
https://www.agalert.com/story/?id=14155
Megadrought On the Horizon?
Public Policy Institute of California
Northern California—where most of the state's water supply originates—has been exceptionally dry this year, part of an unfolding decades-long "megadrought" affecting much of the West. While the focus of attention is naturally on managing drought, two new studies suggest that we have vastly underestimated the state's flood risk.
California's climate is already the most variable in North America, and global climate change is making it even more volatile, with increasingly dramatic swings between wet and dry conditions—referred to as "precipitation whiplash." In addition, rising sea level is increasing the likelihood of coastal flooding, which is often associated with intense storms. Water managers have the unenviable task of simultaneously mitigating increasing drought and flood risk.
Most major floods in California are associated with atmospheric rivers. These narrow, concentrated bands of atmospheric moisture resemble rivers as they flow from west to east across the Pacific. When these storms make landfall in California, they interact with the state's mountainous terrain to produce prodigious amounts of rain—rivalling rainfall rates of hurricanes—and voluminous runoff.
Atmospheric rivers are California's most welcome drought-busters and most unwelcome flood generators. The numerous atmospheric rivers that hit California in 2017 broke the 2012–16 drought, filling the state's reservoirs. But they also broke the spillway at Oroville Dam, requiring the evacuation of more than 180,000 people and causing more than $1 billion in damages.
As the climate warms, atmospheric rivers are growing more intense. A new study zeroes in on the details of how this is increasing flood risk in California.
Warming atmospheric rivers can carry more moisture. This dramatically increases a storm's precipitation intensity (the amount of precipitation per hour) as well as the total volume of precipitation. Warmer storms also produce less snow and more rain, adding to potential runoff. The combination of increased precipitation intensity and volume causes flooding as runoff rapidly overwhelms levees on rivers and storm water management facilities in cities.  These intense storms also cause damaging landslides and mudflows, especially in areas that have recently burned.
Warming atmospheric rivers are a challenge for California's flood management. Today, much of the state relies on Federal Emergency Management Agency (FEMA) flood maps to guide land-use planning and the siting of flood infrastructure. But these maps are principally based on historical conditions rather than current, rapidly changing conditions. In addition, many of these maps are incomplete, and don't take into account all sources of flood risk.
A second study—by the First Street Foundation—presents new estimates of current and future flood vulnerability across the US. This study uses more sophisticated tools than FEMA to model floods and does a better job accounting for climate change and sea level rise.
The takeaway from this work is that the state—and its federal partners—may have vastly underestimated current flood vulnerability. FEMA maps show that roughly 500,000 California properties are at substantial likelihood of flooding, with a 1% chance of being flooded in any given year. The study found that more than twice that amount—1.1 million properties—are already at this level of risk, and that an additional 150,000 properties will join them in the next 30 years, mainly because of rising seas. The number will likely be higher once the flood risks from warming atmospheric rivers—outlined in the first study—are factored in.
These studies indicate that California's flood managers face a major challenge due to a weak understanding of current and future flood risk. Documenting risk—and communicating it well to the public—is an essential first step in flood management, as it guides the development of adaptation strategies, land use planning, and investment in infrastructure. Failure to do this can have major social and economic consequences.
During the past decade the United States has experienced historic increases in flood damages, with 32 major floods totaling more than $146 billion in damages and 555 deaths. Other than the Oroville Dam disaster, California has been fortunate to avoid major losses during this time, but we cannot be complacent. Although much effort has already gone into tackling the problem of increasing flood risk in California—including exemplary planning efforts like the Central Valley Flood Protection Plan—we have much more work to do. The place to start is improving our understanding of risk, and factoring it into planning and preparing for a changing flood future.
https://www.ppic.org/blog/high-and-rising-flood-risk-in-california-grows/
Study:
https://advances.sciencemag.org/content/6/29/eaba1323
California Grower Transformed Fruit Worldwide; Quietly Passes
Modesto Bee
Floyd Zaiger transformed the stone fruit industry from his farm just west of Modesto. Experts the world over praised the peaches, plums and other crops he bred. Everyday shoppers enjoyed them, too.
Zaiger died June 2 at his home. He was 94 and had suffered from heart disease, daughter Leith Gardner said.
Zaiger is perhaps best known for inventing the pluot, a plum-apricot cross that is now a summer staple, but his hundreds of patented varieties did plenty more.
Certain peaches taste sweeter because Zaiger bred some of the acidity out of them. White nectarines, which used to spoil quickly, can withstand the journey from orchard to kitchen counter. The apricot harvest, most of it in Stanislaus County, goes deeper into summer than it used to.
"He enjoyed that the products he developed had done so well all over the world," his daughter said.
Zaiger's 120-acre breeding grounds along Grimes Avenue have drawn visitors from around the globe. Fruit growers, grocery store managers and others come to taste the latest. A crew for a Martha Stewart TV show once filmed a segment there.
Gardner and brothers Grant and Gary Zaiger carried on the business, Zaiger Genetics, along with three of Floyd's six grandchildren. He also had 10 great-grandchildren.
His wife, Betty Zaiger, died in 2010. She had helped him get started as a breeder in the 1950s. They later owned a small chain of retail garden centers.
Zaiger told his life story in a 2009 book by Chip Brantley, "The Perfect Fruit: Good Breeding, Bad Seeds and the Hunt for the Elusive Pluot."
He was born Chris Floyd Zaiger in Kennard, Nebraska, on April 26, 1926. The family moved to Oregon in the late 1930s.
The Zaigers ended up in Modesto during World War II because Floyd's brother, Doliver, recuperated from his war wounds at the former Hammond General Hospital. Floyd trained as an Army paratrooper near the end of the war.
His interest in plant propagation started with a visit to Dave Wilson Nursery in Modesto — not to buy plants, but to pump some of the gasoline the business also sold. (The nursery would later move to much larger quarters near Hickman and become the marketer of Zaiger's creations.)
Zaiger enrolled at Modesto Junior College, then transferred to the University of California, Davis, to study plant physiology. It was in Davis that he met Betty, who was working as a bookkeeper for Woolworth. They married in 1950.
Zaiger got a teaching job at MJC, and the couple made their home at a rundown nursery that they restored. Floyd started propagating azaleas, the start of a retail business that would last until 1990.
Zaiger apprenticed with Fred Anderson of Le Grand, dubbed the "father of the modern nectarine." Anderson in turn had studied under Luther Burbank, creator of the Santa Rosa plum and many other varieties.
The name Zaiger Genetics suggests genes spliced in a laboratory, but this company is decidedly low-tech. To achieve certain traits, such as flavor or length of season, workers start by extracting pollen from one variety and brushing it onto the blossoms of another. If the resulting fruit looks promising, its pit is planted to produce a new seedling. The young branches are then grafted onto established trees, known as rootstock, that have their own desired traits.
"We do everything the old-fashioned way, primarily because that's the way the public will accept it," Zaiger told The Modesto Bee during a 2009 visit.
It can take up to 15 years of this trial and error to yield a marketable fruit, Brantley wrote. "Floyd knew that fruit breeding was an old man's game whose progress was best measured on a long clock. It was a trade best not dabbled in, something you had to treat like a calling."
Zaiger received numerous awards for his work, from admirers near and far. The Stanislaus County Ag Hall of Fame inducted him in 2004. France named him a chevalier, similar to a knight, in 1981, and in 1997 promoted him to the Order of Agricultural Merit.
Another visit by The Bee in 2013 elicited yet more praise. "The Zaiger family is the most influential and creative plant breeders of our time," said Eric Wuhl of Family Tree Farms in Reedley, Fresno County. "Without Floyd Zaiger, we don't make a profit."
The family held a private memorial service but hopes to have a public celebration of Zaiger's life when the COVID-19 restrictions ease, his daughter said.
Memorial donations can be made to the Floyd and Betty Zaiger Scholarship Fund at MJC. It is mainly for agriculture students.
Floyd Zaiger's hands: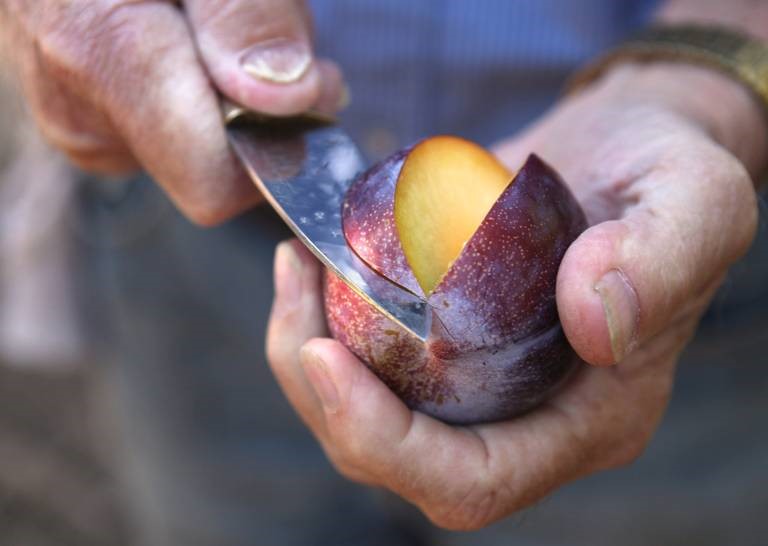 https://www.modbee.com/news/business/agriculture/article243589442.html#storylink=cpy