For Clients & Friends of The Gualco Group, Inc.
IN THIS ISSUE – "Tough Decisions & More Work Remains Ahead"
BUDGET & BALLOT
EMISSIONS & DROUGHT
FOR THE WEEK ENDING JUNE 26, 2020
NOTE: CN&N Will Not Publish July 3rd
Capital News & Notes (CN&N) harvests California legislative and regulatory insights from dozens of media and official sources for the past week, tailored to your business and advocacy interests.  Please feel free to forward.
READ ALL ABOUT IT!!
"In Austerity Mode": State Spending Plan Approved; Awaits August Update
CalMatters
The work of crafting a pandemic-era state budget was never going to make California Democrats happy. The question, as soon as the economic fallout from the coronavirus became evident this spring, wasn't whether there would be cuts, but rather, who would take them and how deep they would go.
The answer, detailed in an agreement Democratic lawmakers and Gov. Gavin Newsom reached to close a $54 billion deficit, is that middle-class families are likely to feel the biggest burden, while the neediest Californians are largely — though not completely — spared.
Unless the federal government comes through with billions of dollars in stimulus funds, state government employees will lose about 10% of their compensation, and California's two university systems will lose a combined $602 million, raising the possibility of tuition increases. On the other hand, programs that help people who are homeless, elderly or dependent on the government for health insurance — as well as funding for K-12 schools and community colleges — will not suffer most of the cuts that Newsom proposed last month.
Given the speed with which the pandemic tanked California's economy — Newsom projects unemployment will peak at 24.5% this year — and the associated rush to negotiate a spending plan, the budget agreement "seems like a reasonable compromise," said Chris Hoene, executive director of the California Budget and Policy Center, which advocates for economic policies that benefit low- and middle-income Californians.
"But in the context of what California needs right now, it feels like it falls far short."
The plan includes some deferrals and accounting maneuvers, as well as suspension of a tax break on businesses that raises about $4.4 billion. But it does not include any major tax increases, which many progressives are pushing for on the November ballot. Though Democrats hold about 75% of legislative seats, raising taxes remains difficult in the statehouse, with many Democrats from swing districts reluctant to support them. Consideration of even a relatively small tax on vaping products that Newsom proposed was put off until later this summer.
"We've got a quandary where we have state leaders operating in a 'let's get through this right now' mode, where the urgency of the (recession) requires more significant responses," Hoene said.
"They are in austerity mode."
In turning to the universities to shore up the budget, the state is effectively putting the squeeze on a slice of the government that relies on a paying customer: the student. Though the universities have not yet said how they'll respond to the loss, history suggests that tuition increases are probably on the horizon.
"The UC and CSU are going to be forced to balance their budget on the backs of talented qualified students," said Audrey Dow, senior vice president of the Campaign for College Opportunity, an advocacy group that supports expanding access to higher education. "Tuition will likely be raised and enrollment will be even further reduced at a time when families can least afford it and when California's economy can least afford it."
For the most part, students from the poorest families would not feel the impact of tuition increases at the universities because they are covered by financial aid. Students from middle-class families get less aid, and are therefore more likely to feel the brunt of any hikes.
Less money at the universities also means fewer spots for undergraduate students — and more competition to get into UC and Cal State schools. Dow said CSU could set higher standards for admission or for certain majors.
Families of state government workers are also likely to feel a pinch. The average state worker salary is around $73,000, according to the state controller, and the budget agreement calls for reducing compensation overall by 10%. Exact details will be worked out with each union. So far, the prison guards union has agreed to a 4.5% pay cut and the largest state worker union has agreed to a 9.2% pay cut. In both cases, salary increases scheduled for July will be delayed for two years, and workers will get some paid time off as part of the deal.
Here are other key takeaways about the budget agreement:
The agreement reflects a compromise between Newsom, who sought $14 billion in cuts unless the federal government delivered stimulus funds by July 1, and lawmakers, who wanted to make fewer cuts and delay them until the fall. The plan makes the cuts now — slashing $602 million from higher education, $150 million from the courts and $2.9 billion from state employee salaries — but promises to rescind them if federal funding comes through by October 1.
"Californians are doing their part – now it's imperative for our federal partners to pass a responsible and comprehensive relief plan so states and local communities can continue to keep Americans safe while leading our national economic recovery," Newsom and the Legislature's Democratic leaders said in a joint statement.
Lawmakers rejected Newsom's proposals to slash health and social services that are credited with keeping some low-income Californians out of nursing homes. The final agreement does not reduce hours for in-home health aides, cut meal programs for seniors, defund dental care for Medi-Cal patients, or eliminate health programs that serve more than 47,000 low-income, medically fragile seniors and disabled people.
"I literally just cried my eyes out — these are happy tears," said Debbie Toth, president and CEO of Choice in Aging, a nonprofit that offers adult day health services to 320 seniors in Contra Costa, Napa and Solano counties.
Programs to alleviate homelessness also were largely shielded from cuts. (One notable exception: a $250 million reduction to a program that helps build low- and moderate-income housing.) Democratic legislative leaders secured $300 million in homelessness aid for local governments that was missing from Newsom's post-pandemic housing proposals.
And the budget agreement doubles down on Newsom's gambit to seize a silver lining amid the pandemic: cheap motel rooms for people without homes. California will spend $550 million in federal dollars to buy as many hotels as it can before the aid expires December 31. The plan is for counties, cities and nonprofits to convert those hotels into more permanent housing solutions for the states' 150,000 homeless residents—a process that is often time consuming and expensive.
Long before the coronavirus hammered the economy, a political tug-of-war had been playing out over how much the state should spend to help undocumented immigrants. In the boom times of the last few years, California expanded the Medi-Cal health insurance program for the poor to cover undocumented children and young adults.
This year, Newsom and the Legislature were negotiating over two key proposals: a $64 million expansion of the Medi-Cal health insurance program to cover undocumented seniors over age 65, and a $65 million tax break for undocumented workers with low incomes and a child under age 6.
In the end, they struck a compromise, agreeing to the tax break for undocumented working parents, but not the health care expansion for undocumented seniors. The budget says the state will expand Medi-Cal to cover undocumented seniors in the future, when the long-term fiscal outlook improves.
"I know we can't win everything in this economic environment, but it's disheartening," said state Sen. Maria Elena Durazo, a Los Angeles Democrat who has been a key player in the push for health care for undocumented seniors.
"What do I say to them? Other than to say, 'When things get better.'"
https://calmatters.org/news/2020/06/california-budget-deal-cuts-poor-middle-class-uc-csu-seniors-medi-cal/?utm_source=CalMatters+Newsletters&utm_campaign=b6310dbb35-WHATMATTERS_NEWSLETTER&utm_medium=email&utm_term=0_faa7be558d-b6310dbb35-150181777&mc_cid=b6310dbb35&mc_eid=2833f18cca
Assembly summary:
https://abgt.assembly.ca.gov/sites/abgt.assembly.ca.gov/files/Floor%20Report%20of%20the%202020-21%20Budget%20-%20%28updated%20as%20of%20June%2022%29%29.pdf
Winners & Losers in Fiscal 2020-21 State Budget
Sacramento Bee
More than a decade of economic growth has crashed to a halt, leaving the state of California short by tens of billions of dollars.
In response, Democratic lawmakers and Gov. Gavin Newsom are scaling back programs and finding new ways to bring in money.
A spending deal announced Monday relies on more optimistic projections of revenue and expenses than Newsom assumed when he proposed a budget plan in May. But that doesn't mean there won't be pain.
"In the face of these challenges, we have agreed on a budget that is balanced, responsible and protects core services – education, health care, social safety net and emergency preparedness and response," the governor, Senate President Toni Atkins, D-San Diego, and Assembly Speaker Anthony Rendon, D-Lakewood, said in a statement. "To be clear, this budget required some tough decisions and more work remains ahead."
Here's a look at who benefits and loses in the deal:
WINNERS
Young families
The Newsom administration agreed to back off on more than $650 million in proposed cuts to child care programs, which would have amounted to a 10 percent reduction. That would have cut money to pay child care workers and fund facilities.
The budget still cuts funding from early education and preschool programs, an area of the budget where the state had trouble spending all the money it had allocated the previous year.
Seniors
The Newsom administration also rescinded more than $200 million in proposed cuts to in-home supportive services and other programs that help elderly, blind and disabled people with housework, transportation, personal care and other tasks so they can live independently.
Groups that advocate for the elderly and for health care access argued that those cuts would force more people into nursing homes, which they argued would be devastating during a pandemic. More than 40 percent of California's COVID-19 deaths have occurred in those homes, according to data from the California Department of Public Health.
The budget deal also doesn't include the administration's proposed changes to Medi-Cal eligibility requirements that could have shut tens of thousands of low-income seniors out of the state health insurance program.
"What this budget deal means is that tens of thousands of low-income seniors will be able to get comprehensive coverage through Medi-Cal, to take care of their condition, including those that exacerbate the effects of COVID-19," said Anthony Wright, executive director of Health Access California.
Cities and counties
Cities are getting $550 million for Project Roomkey in federal funding already sent to states at the start of the pandemic. The money will let cities continue housing vulnerable homeless Californians in hotels and motels.
Cities will also get $500 million and counties will receive nearly $1.3 billion to use for a variety of services, including homelessness, public safety and public health.
"Counties' role in the COVID-19 pandemic is to act in partnership with state government. Counties truly appreciate Governor Gavin Newsom and the Legislative Leadership for this significant reimbursement of funds to partially cover COVID-19 costs including public health and emergency response," said Graham Knaus, executive director of California Association of Counties, in a statement. "The 2020-2021 State Budget acknowledges the tireless, important work that California's Counties handle day in and day out as THE local public health and emergency response authorities."
There is one catch. The money is contingent on local governments complying with Newsom's COVID-19 executive orders, which include the stay-at-home and mask mandates. The governments will have to prove compliance with the Department of Finance, and then the State Controller can allocate the money.
LOSERS
State workers
The budget would save about $3.6 billion per year by cutting state workers' pay by roughly 10 percent and canceling the raises many are scheduled to receive in July.
The deal gives Newsom the authority to impose two furlough days per month if pay-cut deals can't be reached with unions that haven't yet negotiated with the state.
Universities
California's university systems will each lose about half a billion from their budgets under the deal announced Monday.
The budget cuts $470 million from the University of California and $500 million from California State University, although that funding could be restored if the federal government provides more aid money.
Some programs and departments, however, will get money originally included in Newsom's January budget proposal, including $25 million for UC Riverside School of Medicine and $5 million for the UC Davis Grant Program for Animal Shelters.
Another $4 million is set aside in summer financial aid for UC, and $6 million for CSU students.
WON SOME, LOST SOME
Businesses 
The budget includes some additional aid for small businesses affected by the pandemic, which Newsom said Monday is specifically designed to help businesses that haven't benefited from federal business aid.
The budget deal also suspends some tax breaks for companies, which Republicans have pointed out is a tax increase for businesses during the recession.
It prohibits businesses with income exceeding $1 million from writing net operating losses off on taxes from 2020 through 2022. It also limits people and corporations from claiming more than $5 million in business incentive tax credits over the same period
Businesses prohibited from using the credits over the next three years will be allowed to carry them over into future years.
Undocumented immigrants
Some lawmakers had pushed to expand eligibility for Medi-Cal, the state's insurance program to low-income people, to undocumented seniors, but that didn't make it into the final deal.
The budget deal does expand eligibility for undocumented immigrants to claim earned income and young child tax credits if they have a child under age 6, a victory for immigrant advocacy groups that have been pushing for that change for years.
Schools
California's K-12 schools and community colleges dodged billions in cuts Newsom included in his May budget plan.
The budget essentially kicks those cuts down the road. The state will delay payments to school districts, letting them continue to operate by borrowing or using cash reserves. But the state eventually will have to pay up if federal assistance doesn't materialize.
The plan also prohibits layoffs to teachers and classified employees, which include custodians and food workers.
"While this budget prevents the worst cuts in the short term, it still puts our students and our communities at risk," said Jeff Freitas, president of the California Federation of Teachers. "As teachers and classified professionals we will continue to demand the revenues our students need to succeed."
https://www.sacbee.com/news/politics-government/capitol-alert/article243677002.html#storylink=cpy
CA Monthly Economics: Job Loss Up, Housing Starts Down, State Revenue Still Rising
State Dept. of Finance
The U.S. economic expansion officially peaked in February 2020, ending at a record-long 128 months. After seven months at the record-low 3.9 percent, California's unemployment rate rose to a record- high 16.4 percent in April before decreasing to 16.3 percent in May. The nation's unemployment rate rose to a record-high 14.7 percent in April before decreasing to 13.3 percent in May. There were 22 million fewer employed Americans in May compared to February. From February to May, U.S. nonfarm payrolls fell from 152.5 million to 132.9 million.
The number of employed Californians decreased for three consecutive months from 18.8 million in February to below
15.5 million in May, its lowest level since April 1999 and a total decline of 3.3 million people. The state's labor force participation dropped to a record low 59.3 percent in May, as the labor force fell by more than
1 million from 19.5 million in February to below 18.5 million in May.
In May, 10 out of 11 major industry sectors incurred net job losses since February: leisure and hospitality (917,600 net jobs lost); followed by trade, transportation, and utilities (391,700); educational and health services (283,200); professional and business services (236,100); government (185,800); other services (168,200); manufacturing (116,700); information (85,000); construction (75,000); financial activities (24,700). Mining and logging was the only sector with more jobs in May than in February (100 jobs).
BUILDING ACTIVITY
California housing units authorized by building permits totaled 60,100 in April, down 52.2 percent from February's 125,800 permits. Over the two-month period, authorized single-family units fell 65.2 percent to 26,800 units while multifamily units dropped 31.5 percent to 33,300 units in April. The total number of permit- authorized housing units in April was the lowest since September 2013. California's nonresidential building valuation in April was $16.8 billion, down 36.6 percent from February's $26.5 billion valuation. This was the lowest nonresidential valuation since June 2013.
REAL ESTATE
May sales of existing single-family homes in California totaled 238,740 units on a seasonally adjusted annualized basis, a 43.4-percent decline from the 421,670 homes sold in February. The statewide median sales price of an existing, single-family home was $588,070 in May, an increase of 1.4 percent from February, but down 3.7 percent from May 2019, ending 98 consecutive months of increasing single-family home prices from March 2012 to April 2020.
STATE REVENUE
Preliminary General Fund agency cash for the first eleven months of the fiscal year is $793 million above the 2020-21 May Revision forecast of $122.696 billion. Cash receipts for the month of May were
$785 million above the forecast of $7.431 billion. Beyond any reduction in cash receipts due to the ongoing economic slowdown, personal income tax receipts, sales tax receipts and corporation tax receipts have all been reduced in March, April and May due to the Franchise Tax Board and the California Department of Tax and Fee Administration delaying due dates for tax payments. The delays were known and accounted for in the May Revision forecast. The 2020-21 Budget Act includes
$793 million in additional revenues, and receipts reported in future Finance Bulletins will use this new baseline.
Personal income tax cash receipts for the first eleven months of the fiscal year are $533 million above forecast. Personal income taxes to the General Fund for May were $521 million above the month's forecast of $4.111 billion. Withholding receipts were $354 million above the forecast of $4.594 billion. Other receipts were $9 million higher than the forecast of $797 million. Refunds issued in May were $167 million below the forecast of $1.207 billion. Proposition 63 requires that 1.76 percent of total monthly personal income tax collections be transferred to the Mental Health Services Fund (MHSF). The amount transferred to the MHSF in May was $9 million higher than the forecast of $74 million.
Sales and use tax cash receipts for the first eleven months of the fiscal year are $40 million below forecast. Revenues for May were $40 million below the month's forecast of $2.106 million. May cash includes the remaining portion of the final payment for first quarter taxable sales, which was due April 30, as well as the first prepayment for second quarter sales and use tax liabilities.
Corporation tax cash receipts for the first eleven months of the fiscal year are $21 million below forecast. Cash receipts for May were $21 million below the month's forecast of $203 million. Estimated payments were $21 million below the forecast of $106 million, and other payments were $60 million lower than the
$207 million forecast. Total refunds for the month were $60 million lower than the forecast of $110 million.
http://www.dof.ca.gov/Forecasting/Economics/Economic_and_Revenue_Updates/documents/2020/Jun-20.pdf
Raise Commercial Property Taxes, Expand Data Privacy Law:
Voters to Decide on 11 Ballot Measures in November
Associated Press
California voters will weigh in this November on whether to expand a landmark data privacy law, alter a decades-old law that limits property taxes on businesses and exempt ride-hail giants Uber and Lyft from a new state labor law.
They are among 11 measures Secretary of State Alex Padilla certified on Thursday for the Nov. 3 ballot. Others include two constitutional amendments approved by the Legislature, which would overturn the state's ban on affirmative action and restore the voting rights of people with felony convictions who are on parole. A referendum will ask voters to decide whether the state should eliminate cash bail.
Ballot measures are often among the most expensive and high-profile issues before California voters each election year and tens of millions of dollars are likely to be spent on each of the major initiatives. Uber, Lyft and DoorDash have pledged to spend $90 million on their measure to exempt them from a state labor law that would require them to treat their workers as employees entitled to more wage protections and benefits.
The most recent measure to become eligible, on Wednesday, would give consumers more power over how companies use their data. It's an extension of a landmark privacy law passed in 2018. It would allow consumers to prevent businesses from sharing their personal information; limit businesses' use of geolocation, race, health or other information; and create a state agency to enforce and implement the law. The agency would hire 40 employees at an estimated cost of $10 million per year.
It builds on the California Consumer Privacy Act, which took effect Jan. 1. Lawmakers passed it in 2018 under pressure from Alastair Mactaggart, a wealthy California developer, who spent millions of his own money to qualify an even more sweeping measure for the ballot. He withdrew his measure when the law passed under a compromise with legislators.
Under the existing law, consumers can request companies, including internet giants Google and Facebook, tell them what personal data they have collected and what third parties the companies shared it with.
Consumers can ask companies to delete it or stop selling it. Companies can't sell data from children under 16 without consent.
Mactaggart's new initiative would triple the penalties for companies that violate the rules for children under 16.
"California has led the nation in securing fundamental privacy rights," Mactaggart said in a statement. "During these times of unprecedented uncertainty, we need to ensure that the laws keep pace with the ever-changing ways corporations and other entities are using our data."
Dylan Hoffman, director of California Government Affairs for the Internet Association, said the organization's member companies, which include Amazon, Facebook and Google, are focused on complying with the existing law and that further changes should be made by lawmakers, not at the ballot.
"The internet industry believes that the Legislature is the proper venue to vet such a complex and technical area of law and policy," he said in an emailed statement.
The efforts to overturn the state's ban on affirmative action policies, restore the voting rights of parolees with felony convictions and end cash bail are likely to generate significant attention as the nation grapples with systemic racism and calls to reform the criminal justice system.
Voters in 1996 banned governments and public colleges and universities from considering race in their hiring and admissions decisions. California lawmakers passed a law eliminating cash bail in 2018 but opponents blocked it from taking effect by qualifying a referendum for the ballot.
Other measures on the ballot this fall would:
-Shorten the list of which people convicted of crimes can seek earlier parole and reclassify some theft crimes as felonies instead of misdemeanors
-Allow local governments to establish rent control on certain properties
-Make it easier for older and disabled residents to transfer their property tax rates to different properties
-Authorize $5.5 billion in state bonds to fund stem cell research, with $1.5 billion dedicated to research on Alzheimer's, Parkinson's, stroke, epilepsy and similar diseases
-Regulate kidney dialysis clinics
https://apnews.com/1d8885233981442d92fe5e15060c58c6
CalEPA Reviews Future of Cap & Trade
CalMatters
As the coronavirus pandemic and recession hits California, the governor's top environmental official has launched a comprehensive review of the cap and trade program that has been the cornerstone of the state's strategy to fight climate change.
California has been relying on its carbon trading program for nearly half of the greenhouse gas reductions it has promised by 2030. Now, in a letter obtained by CalMatters, California EPA Secretary Jared Blumenfeld laid out plans for re-examining the program and whether it's likely to meet its goals.
"The advent of the COVID 19 Crisis, the collapse of the world oil market, and the results of [the California Air Resources Board's] May 2020 Auction are all factors that deserve careful consideration," Blumenfeld said in the letter addressed to state Sen. Bob Wieckowski, a Democrat from Fremont.
Blumenfeld said in the letter that he would work with air board leadership to weigh "the extent to which the state's climate strategy should rely on the cap-and-trade program reductions relative to other approaches."
The letter could reflect a shift for Gov. Gavin Newsom's administration when it comes to California's cap and trade, a landmark program that was the first in the nation to create a carbon market for all segments of the economy and now is one of the largest pollution markets in the world.
"It's the first formal acknowledgement from the administration that they're willing to look at a different mix," Wieckowski said. "They're not conceding that it's not working, but they're willing to look at it. Therein lies victory, I guess."
But critics of the program are concerned that it isn't stringent enough to meet California's ambitious goals to reduce emissions of planet-warming gases by 2030 to 40 percent below 1990 levels. Major polluters include oil refineries, power plants, transportation and manufacturers.
Assemblymember Cristina Garcia, a Democrat from Bell Gardens and chair of the Joint Legislative Committee on Climate Change Policies, said it's time for California to be more aggressive because the climate is continuing to warm.
Re-examining the cap and trade program creates an opportunity, she said. "The legislature, the nonprofits, the activists now need to figure out how to take advantage of this opportunity," she said. "It's up to all of us to figure out how to make it more than lip service."
Launched in 2013, California's cap and trade program sets an overall cap on greenhouse gas emissions each year but offers flexibility in how companies achieve it by allowing them to buy and sell pollution credits in auctions.
"Nobody's talking about getting rid of this program. It's just if it's not doing enough as it's currently designed, you can't count on it to do all the work," said Danny Cullenward, an energy attorney and economist who lectures at Stanford Law School. Cullenward serves on the Independent Emissions Market Advisory Committee, which is tasked with evaluating cap and trade, but he said he was not speaking on behalf of the committee.
Quarterly auctions for pollution permits have been a major revenue generator for the state, raking in more than $600 million per auction over the past two years. The money pays for a wide range of climate projects, such as clean vehicle rebates, high speed rail and dairy digesters.
But with the economy thrown into turmoil by the coronavirus, the most recent auction in May made only about $25 million.
California's nonpartisan Legislative Analyst's Office said that its possible this could become a trend: Future auctions might continue to flatline because of the recession and too many pollution credits floating around the market.
The Independent Emissions Market Advisory Committee, made up of researchers and academics appointed by the governor and leaders in the Legislature, has proposed metrics for tracking that bank of extra credits. The Legislative Analyst's Office warns too many credits might interfere with reaching California's 2030 climate goals.
While Blumenfeld could not be reached for comment, his letter proposed evaluating "potential changes to the cap-and-trade program that may be necessary to address the long-term economic and emission projections." He said the air board should work with the market advisory committee and the Legislative Analyst on "an agreeable set of technical metrics."
A think-tank analysis published in January suggested altering the minimum price at which cap-and-trade credits are sold, recommending that the price rise and fall in response to rising and falling emissions.
Wieckowski proposed including $200,000 in the budget and instructions for the Air Resources Board, which operates cap and trade, to use the money to consider changes to the program.
"I think of it as the 10,000-mile checkup on the car. Not saying anything's wrong with the car — I am — but look at everything, and see if things are running the way it's supposed to," Wieckowski said.
California's businesses, manufacturers and oil companies pushed back, saying that changes to cap and trade could increase the price of gasoline and consumer goods, and that the program was not designed to raise revenue. The California Manufacturers & Technology Association launched an advertising campaign saying "Hands off Cap and Trade."
As California's leadership haggled over the budget, Wieckowski's proposal was scrapped. Blumenfeld said in his letter that California needs more time to understand the long-term consequences of the pandemic.
Catherine Reheis-Boyd, president of the Western States Petroleum Association, said "it's appropriate to evaluate what's happening, but it must be done holistically and inclusively."
She said the program was already scheduled to be reviewed as part of an update to the state's climate roadmap, called the scoping plan, which is due to be completed by fall 2022.
"Because climate change is a shared challenge," she said, it's essential to include the petroleum industry and other stakeholders in reviewing the program.
Blumenfeld wrote in his letter that the review must clarify how much California can rely on cap and trade. The state's latest climate roadmap "designates cap-and-trade as responsible for almost half of the reductions required to achieve California's 2030 climate target, making it the single largest driver of planned climate policy outcomes."
Focusing on reaching the 2030 target is critical because the state is not on track to meet it, Cullenward said. Independent analyses agree. While California met its 2020 goals to cut greenhouse gas pollution early, its 2030 targets are much more ambitious.
"It's a pretty significant thing to have a public statement from the administration on this," Cullenward said. "They've not spoken to this before, and it's a significant commitment."
https://calmatters.org/environment/2020/06/california-climate-strategy-cap-trade/?utm_source=CalMatters+Newsletters&utm_campaign=b6310dbb35-WHATMATTERS_NEWSLETTER&utm_medium=email&utm_term=0_faa7be558d-b6310dbb35-150181777&mc_cid=b6310dbb35&mc_eid=2833f18cca
CA Air Board Adopts Planet's First Zero-Emission Truck & Bus Law
CalMatters
California yesterday adopted the world's first regulation that forces manufacturers to ramp up sales of zero-emission trucks and buses over the next 15 years.
An estimated 300,000 trucks powered by electricity or hydrogen must be on California roads by 2035 and 100,000 by 2030, under the standards unanimously approved by the state's top clean-air enforcers.
Several years in the making, the mandate is aimed at cleaning up diesel big rigs, delivery vans, school buses and other large vehicles that are pumping out pollution on California's roads. Reducing truck exhaust is essential for ensuring that the state's urban areas, particularly in the Los Angeles basin, meet health standards for smog and soot.
"It is clear this is the first of its kind in the world," said Air Resources Board Chairwoman Mary Nichols. "It's part of a long line of groundbreaking actions that this board has taken to protect our air. But it is a very important one given its particular relevance for low income and communities of color."
The clean-vehicle mandate begins with 5 to 9% of trucks sold in 2024. By 2035, 55% of delivery vans and large pickups, 75% of larger vehicles such as school buses and garbage trucks and 40% of the big rigs sold in California must be zero-emissions.
"This rule is foundational to efforts to transition medium and heavy duty vehicles to zero emission technologies," Andrew Schwartz said on behalf of Tesla, Inc., which has announced plans to produce electric pickups and electric semi trucks.
Manufacturers of conventional diesel engines, however, warned that there is no guarantee that people would buy the new trucks. Zero-emission large pickup trucks and delivery vans will cost about $10,000 to $20,000 more than conventional vehicles, and big rigs will cost up to $70,000 more, according to the air board.
"There's no (battery) charging infrastructure, and developing one is very expensive and there is inadequate incentive funding available," said Jed Mandel, president of the Truck and Engine Manufacturers Assn. "All of those factors are exacerbated by the pandemic, the recession, the state's budget."
To address the industry's concerns about demand for electric trucks, the air board will require fleet operators to report their truck use, laying the groundwork for a future rule that would require fleets to purchase clean trucks.
Despite concerns about costs for vehicles and charging infrastructure, the air board estimates that the rule will result in 7,500 new jobs, $5.9 billion in net savings, including from reduced fuel and maintenance costs, and an additional $8.9 billion in avoided deaths, hospitalizations and lost workdays.
Transportation is the number one source of smog and greenhouse gas pollutionin California. And while heavy-duty trucks make up a fraction of that vehicle fleet, they produce about 25 percent of diesel pollution — a known cancer-causing pollutant that's estimated to contribute to more than 1,400 early heart disease deaths in California per year.
Pollution from diesel trucks hits Latino, Black, Asian American and lower-income Californians the hardest, according to a Union of Concerned Scientists Analysis. Trucks are a major source of smog, soot and cancer-causing gases in neighborhoods around the ports of Los Angeles and Long Beach, which rank among the world's busiest. And preliminary data suggest air pollution may be linked with higher death rates from the novel coronavirus.
"We see thousands upon thousands of trucks enter our communities every day," Andrea Vidaurre, policy analyst at the Center for Community Action and Environmental Justice, said at the hearing.
Vidaurre sought stricter standards for big rigs than proposed. "Our communities that are on the front line of the supply chain whose bodies, lungs, labor and environment make it possible for shelves to be stocked and packages to be delivered are calling for [the air board] to accelerate your targets."
Still, the new rule is tougher than the version that air board staff floated at the end of last year, which drew ire from environmental advocates and truck manufacturers alike.
Environmental advocates and lawmakers worried that the original proposal was too weak. For one thing, pickup trucks weren't included in the sales requirement until 2027, and the sales targets were lower. Air board staff estimated that it would have put 65,000 clean trucks on California's roads by 2030.
The new rule is an improvement, said Jimmy O'Dea, senior vehicles analyst with the Union of Concerned Scientists. But air board staff said that means only 15 percent of the 1.9 million trucks expected to be on California's roads in 2035 would be zero-emission.
"So as big of a step is this policy is, there's a lot that needs to be done to address the remaining 85%," O'Dea said.
The U.S. Environmental Protection Agency must grant California a Clean Air Act waiver before it can enforce its new rule.
Other states have signaled their interest in following California's lead. Officials from Connecticut, Massachusetts, New Jersey, New York and Washington State called into the hearing to voice their support for the standards.
"By adopting these standards, California will once again lead the way in driving our country to make meaningful changes in the transportation system," Kathy Taylor, air quality program manager at Washington State Department of Ecology, said.
https://calmatters.org/environment/2020/06/california-zero-emission-trucks/?utm_source=CalMatters+Newsletters&utm_campaign=ca6711f72b-WHATMATTERS_NEWSLETTER&utm_medium=email&utm_term=0_faa7be558d-ca6711f72b-150181777&mc_cid=ca6711f72b&mc_eid=2833f18cca
Public Policy Research Institute
A recent paper on climate change in California and the West has been in the news and raising concerns. Based on extensive analysis of tree ring data—a good measure of summer soil moisture—the authors postulate that most of the region is in an unfolding "megadrought" that began in 2000 and is the second worst in the past 1,200 years.
What does this mean for California water management? If the state is in a megadrought, it means a great deal. We should plan accordingly.
Megadrought is a term of art, but essentially it refers to decades-long periods of low precipitation and soil moisture, often associated with reduced mountain snowpack. These periods are chronically dry, with less frequent wet years and drier dry years.
California's climate signals suggest that the state is experiencing a megadrought along with much of the West, as evidenced by precipitation and, perhaps most important, temperature anomalies.
In the figure below we plot the departure from average statewide precipitation over the past 70 years (since our modern water supply system was put in place and high-resolution climate data was collected). Starting in 1999 the state entered a 22-year period (including this year) where dry years occurred three times more often than wet years. This is roughly double the frequency of dry years compared to records going back to the late 1800s.
The occurrence of significantly more dry years than wet years over the past two decades has created a cumulative precipitation "deficit" that is quite large—bigger than any 20-year period in the past 70 years (and comparable to the extended dry period that included the Dust Bowl).
But this alone does not make for a megadrought. The other key factor is temperature.
Warm years diminish snowpack, reducing an important source of spring runoff into reservoirs. Extended warm and dry periods lead to snow droughts. However, the big effect of warming may be on evaporative demand. Think of it as the "thirst of the atmosphere."
California's relatively dry atmosphere has a high evaporative demand year-round. On average, roughly two-thirds of precipitation that falls on the state is returned to the atmosphere through evaporation and transpiration by plants. During warm periods evaporative demand increases, reducing the proportion of precipitation that remains as soil moisture or becomes runoff.
As the figure shows, the 21st century has been exceptionally warm—the warmest period since comprehensive record keeping began. This has amplified the impacts of precipitation deficits and gives reason to believe California is in an unfolding megadrought.
During dry periods, reservoirs are drawn down until they can no longer supply more water than nature provides in a given year. Groundwater pumping increases to make up the difference. When a drought is "broken" by a wet year, California's reservoirs fill quickly because their storage volume is small relative to runoff. But aquifers, which rely on the slow percolation of water through soils for recharge, do not fill rapidly. It takes many years of wet—along with disciplined groundwater management—to recover from extra pumping during drought.
With megadroughts, less frequent wet years create an overreliance on aquifers and limit the ability to recharge them. Groundwater deficits accumulate, a problem compounded by high evaporative demand during dry, warm years. Nowhere is this more evident than in the San Joaquin Valley, where overdraft jumped dramatically in the past two decades, making it harder to achieve sustainable groundwater management.
Deficits and evaporative demand also affect the state's fragile freshwater ecosystems and headwater forests. California's plant and animal communities are adapted to occasional drought, but water and forest management practices have made these communities much more vulnerable. The warm, dry 21st century accelerated declines in freshwater ecosystem health and native biodiversity, and contributed to extensive tree deaths in headwater forests.
The new research on megadrought in the West concludes that roughly half of the current drought is from natural climate variability while the other half is associated with warming trends driven by global climate change.
There are strong indications that this megadrought is a preview of a future that is warmer, with more intense droughts. If so, drought planning and preparation will need to change. A first step would be to place less emphasis on the cool, wet 19th and 20th centuries as a guide to the future. Rather, we should focus on the warm, dry beginning of the 21st century as the new baseline to inform drought adaptation efforts.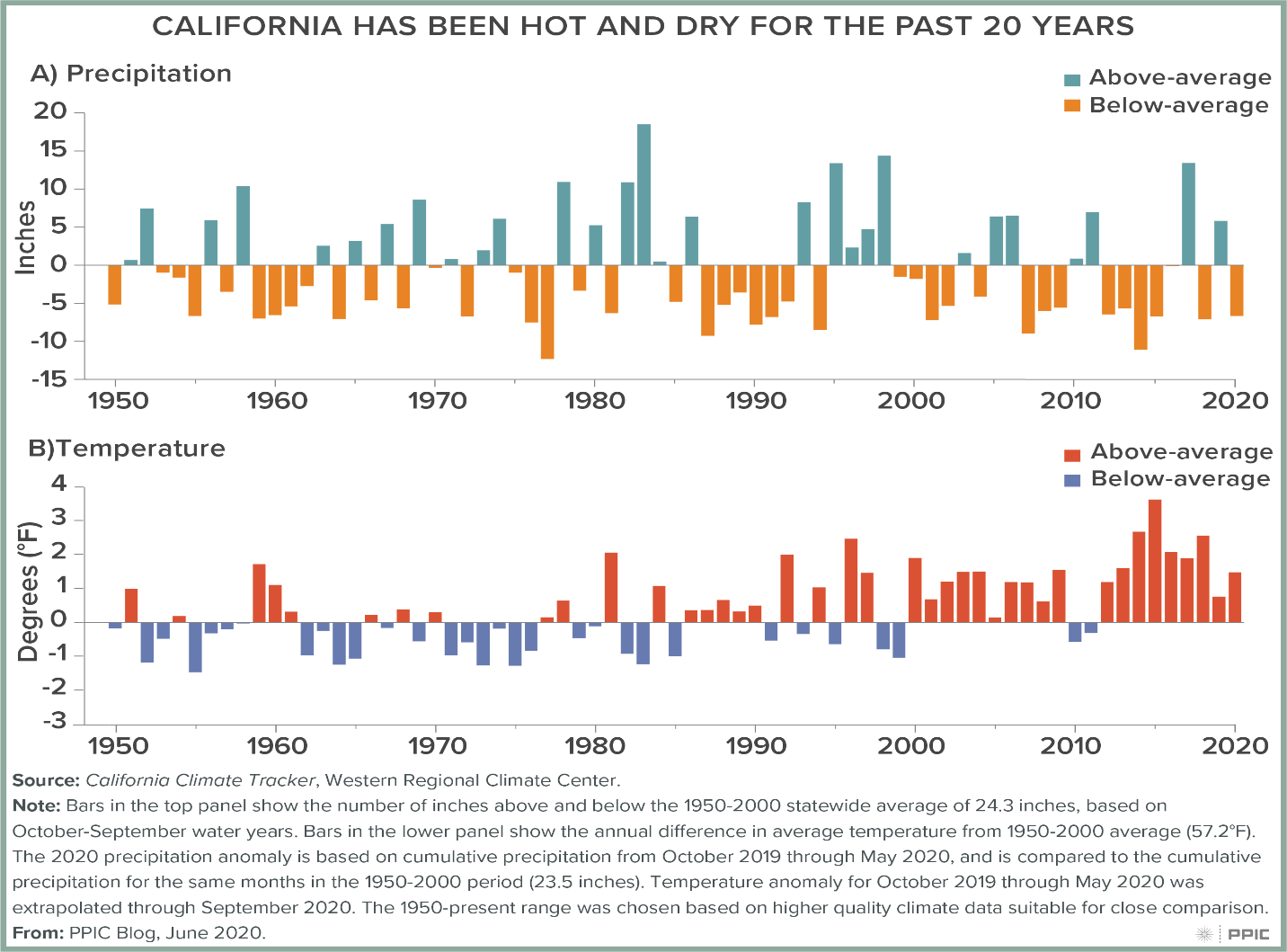 https://www.ppic.org/blog/californias-21st-century-megadrought/?utm_source=ppic&utm_medium=email&utm_campaign=blog_subscriber