For Clients & Friends of The Gualco Group, Inc.
IN THIS ISSUE – "As Orange County Goes, So Goes the Nation"
VOTERS SPEAK…
RATS & ENERGY & WASTE MANAGEMENT
 Capital News & Notes (CN&N) harvests California legislative and regulatory insights from dozens of media and official sources for the past week, tailored to your business and advocacy interests.  Please feel free to forward.
Stay current daily!  For our focused updates via Twitter: @jrgualco / @robertjgore / @gualcogroup
READ ALL ABOUT IT!!
FOR THE WEEK ENDING AUG. 9, 2019
Long a US Conservative Bastion, The OC Goes Blue
Orange County Register
Orange County – a region once associated with John Birch, Richard Nixon and Ronald Reagan – is now home to more Democrats than Republicans.
Early Wednesday morning, Registrar Neal Kelley reported there are 547,458 Democrats vs. 547,369 Republicans registered to vote in Orange County, making the county blue by 89 voters.
The switch marks the first time Democrats have outnumbered Republicans in the county since a short-lived swap in 1978, following the Watergate scandal. And it's the latest step in a political and cultural shift that's been underway for years, with the county becoming more racially, ethnically and economically diverse and the Republican party becoming less popular with non-white, younger voters.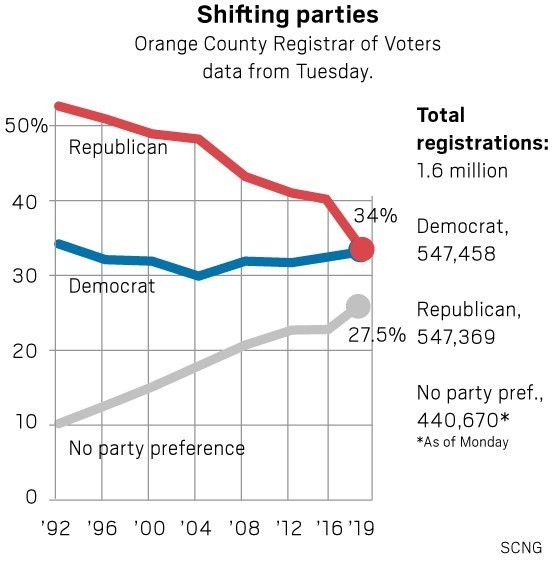 The flip also is a sign that Democrats, not Republicans, are gaining momentum. While the two major parties have slipped or held even statewide in recent years (with the GOP falling to third place, statewide) and No Party Preference has gained ground, that's not been the case recently in Orange County. Instead, over the past several months, Democrats and Republicans both have gained ground with Democrats gaining, on average, roughly four times as many registered local voters as the GOP.
"What we have now is a change of the character of the county," said Dan Jacobson, chair of the Democratic Foundation of Orange County.
While the shift has been expected, it happened several years before many observers predicted. And experts on both sides of the political aisle say backlash against President Donald Trump — along with a GOP that's largely stood behind his rhetoric — is the reason.
Republican leaders say they're taking the change seriously, though they also are downplaying the significance of the latest data.
"We still believe this is a conservative county," said Randall Avilla, spokesman for the Republican Party of Orange County.
While predicting the "pendulum will swing back" within 10 years, as Democrats move left, Avilla added: "We are fully invested and will continue to fight for our county."
But local Democrats note that demographics increasingly are on their side. Younger voters, Latinos and Asians are growing voting blocs in Orange County, and all three currently favor Democrats over Republicans.
Those trends boost the odds that the county's congressional delegation, which flipped from majority red to all blue in November, will stay in Democratic hands. And if they hold, those trends also might make local offices typically dominated by the GOP – for county supervisors, city councils and school districts – ripe for Democratic gains.
Unlike neighboring San Diego County, where the registration edge flipped from blue to red and back to blue again 11 years ago, Orange County was a Republican stronghold almost continuously since its inception.
The GOP's all-time peak in the county came in 1928, when 73% of registered voters were Republicans. The modern-era high came in 1990, when 56% of the local electorate was Republican, giving the GOP a 22-point advantage over Democrats. Since then, that edge narrowed, dropping to 17 percentage points in 2000 and 11 points in 2010.
One factor driving the shift has been the rise of non-white voters, particularly in inland Orange County cities.
In just the past three years the number of Latinos registered to vote in Orange County has jumped 34%, as more people have become citizens and those born in this country have grown old enough to vote. Overall, Latinos now account for 21% of the county's electorate. And many local Latinos are registering as No Party Preference or as members of smaller political parties, they're three times as likely to register as Democrats than as Republicans.
A similar, if less dramatic shift is taking place among Asian American voters. Asian Americans now account for 16% of all registered voters in Orange County and, as a bloc, 30% are registered as Democrats, 29% as Republicans and 41% are No Party Preference or with smaller parties.
But the biggest switch of all is happening among young voters.
In 2002, Orange County voters ages 18 to 34, regardless of race, were aligned with the GOP, with Republicans holding a 42% to 29% registration advantage over Democrats. Today, that's virtually flipped, with under-34 Democrats holding a 38% to 20% advantage over Republicans. Overall, younger voters in Orange County account for 31% of all registrations.
"Many of the half a million registered Democrats in Orange County are 'new Democrats,' who want to be represented by democratic values," said Ada Briceño, chair of the Democratic Party of Orange County. "They care about issues ranging from healthcare, housing and environment to women's rights, among others."
Avilla, with the GOP, argues the bigger headline is the number of Orange County residents in all voting blocs who now register as No Party Preference or with smaller parties. They combined to account for nearly a third of the local electorate (NPP registration in O.C. is 27.4%) though they've lost ground this year as Democrats have surged and Republicans have gained at a slower rate. Still, while surveys show that most independent voters in California lean left, Avilla believes the GOP that can win over a majority of those undeclared voters and have a substantial advantage going forward.
But Democrat Jacobson argues the surge for his party, locally, runs beyond shifting demographics. For at least a decade, he said, national GOP leaders have talked less about fiscal conservatism, the GOP's traditional brand, in favor of racially tinged arguments about immigration and so-called culture issues.
"It was a wave, and there's no nice way of saying this… of national Republican leaders saying stupid things."
Jacobson pointed to the anti-immigrant rhetoric of the Tea Party movement and the GOP's long-running talking point, led by Trump, that Barack Obama was not born in the United States.
"I thought that was not going to be acceptable to the majority of Orange County Republicans," Jacobson said. "They didn't leave the Republican party, the Republican party left them."
Then came Donald Trump.
Even before Trump's candidacy began, Jacobson helped assemble a local team of Democrats that worked to turn Orange County blue, city by city. They held voter registration drives focused in areas that were close to flipping. They took advantage of a law that lets them register young people – who are more likely to register blue – at 17 1/2, so they'll be ready to vote the day they turn 18.
By 2016, local Democrats were positioned for some gains. And the '16 presidential election was the first in 48 years in which more Orange County ballots were cast for a Democratic (Hillary Clinton) than a Republican.
After Trump won the Electoral College, despite losing the national popular vote by nearly 3 million, local Democrats were part of the national surge in protests against the Trump presidency and in favor of women's rights, humane treatment of immigrants and other causes championed by Democrats.
By last year's mid-term election, Orange County's GOP congressional delegation – already a conservative island in solidly left California – was facing headwinds. National GOP groups focused their political efforts outside of California, while the Democratic Congressional Campaign Committee (DCCC) worked with other groups to register Democrats in Orange County. The congressional flip that followed – in which four GOP house members or GOP contenders lost to first-time Democratic challengers – was predictable based on on-the-ground trends.
While new Democratic registration among diverse, young voters has been most apparent in inland cities, Briceño said cases of Republicans having a "change of heart" also has played out in affluent areas along the Orange County coast. That's particularly true across the south coast in areas like San Clemente, where Briceño noted Nixon went to write his memoirs after resigning his presidency.
Still, some experts predicted the surge would slow after 2018. Instead, the blue surge has only accelerated heading into the 2020 election cycle.
Local GOP leaders say registration isn't as important as voter turnout. And Avilla said his party did a better job at getting Republicans to cast ballots in 2018, even if some ended up voting against GOP candidates.
Also, even while blue registration is surging, Avilla noted the biggest gains are in districts that are already blue. He said the GOP will work to register voters in targeted areas, such as the 39th, 45th, 48th and 49th congressional districts, where registration still leans red. He said the GOP also is going after voters with no declared party.
Locally, Avilla pointed out that 27 out of 34 city councils in Orange County remain majority Republican. And Democrats hold a registration advantage in just 14 of the county's 34 cities (though two cities, Aliso Viejo and Westminster, lean Republican by less than 1 percentage point).
"Voters still trust Republicans on issues closest to home," Avilla said.
But Andy Orellana, spokesman for the DCCC, said his party has brought field managers to Orange County "who are trained to execute a modern campaign strategy and harness the growing enthusiasm."
Briceño said while Democrats will push hard to win congressional seats, they also will push to "propel our base toward significant victories in school board and city council elections in 2020."
Meanwhile, other former Republican strongholds also are seeing Democrats make inroads. Tarrant County in Texas and San Luis Obispo County both recently flipped.
"As Orange County goes, so goes the nation," said Fred Smoller, a political science professor at Chapman University.
For the time being, however, Democrat Briceño said one thing has become clear: Orange County is no longer the place where Reagan once said "good Republicans go to die."
https://www.ocregister.com/2019/08/06/democrats-about-to-outnumber-republicans-in-orange-county/
Wildfire Impacts, Drinking Water Access Top Voter Worries
Public Policy Institute of California
Asked about the possible effects of global warming, a record-high share of Californians is very concerned about wildfires becoming more severe. With the California presidential primary seven months away, Kamala Harris, Elizabeth Warren, Bernie Sanders, and Joe Biden are frontrunners in the Democratic primary. These are among the key findings of a statewide survey released today by the Public Policy Institute of California (PPIC).
In the wake of devastating wildfires over the past few years, seven in ten Californians (71%) say they are very concerned about wildfires becoming more severe as a result of global warming. This view is most widely held in the San Francisco Bay Area (75%), followed by the Inland Empire (74%), Los Angeles (72%), and the Central Valley and Orange/San Diego (both 69%).
Governor Newsom recently signed legislation that will provide investor-owned utilities with at least $21 billion, paid for by utility investors and ratepayers, to cover future wildfire damages. This plan is favored by 57 percent of adults (50% of likely voters). Support is highest in the San Francisco Bay Area (67%), followed by Orange/San Diego (57%), the Inland Empire and Los Angeles (both 55%), and the Central Valley (51%).
"A record-high 71 percent of Californians are very concerned about more-severe wildfires from global warming, and majorities across the state's regions favor the new wildfire insurance fund," said Mark Baldassare, PPIC president and CEO.
Californians express less concern about other possible impacts of global warming, with 49 percent saying they are very concerned about more-severe heat waves and 42 percent saying they are very concerned about rising sea levels.
Majorities of Californians say the effects of global warming have already started (63% adults, 64% likely voters) and that global warming is a very serious threat to California's future economy and quality of life (57% adults, 56% likely voters). Major state legislation enacted in 2016 (Senate Bill 32) calls for California to reduce its greenhouse gas emissions to 40 percent below 1990 levels by 2030. Strong majorities (67% adults, 63% likely voters) approve of this law. Strong majorities (71% adults, 66% likely voters) also approve of legislation enacted last year (Senate Bill 100) that requires all of the state's electricity to come from renewable energy sources by 2045. Support is lower (53% adults) for California's "cap and trade" system, which aims to provide an incentive for companies to reduce greenhouse gas emissions.
At a time when California's political leaders have pursued environmental policies that are at odds with those of the federal government, solid majorities (64% adults, 61% likely voters) favor the California state government creating its own policies to address global warming.
"With most Californians believing that global warming has already begun, there is strong support for the state's efforts to reduce greenhouse gas emissions and move toward renewable energy," Baldassare said.
Most Californians approve of specific policy proposals to address climate change. Strong majorities (74% adults, 68% likely voters) support encouraging local governments to change land use and transportation planning to reduce reliance on driving. Overwhelming majorities (75% adults, 76% likely voters) favor requiring automakers to further reduce greenhouse gas emissions from new cars. Notably, four major auto manufacturers and the state announced on July 25 that they had reached an agreement on higher fuel-efficiency standards for new cars, countering efforts by the Trump administration to restrict the state's ability to set such standards.
When asked about the potential impacts of state climate change policies, nearly half of Californians (48% adults, 45% likely voters) say these policies would create more jobs for people around the state. One in five say these policies would lead to fewer jobs (19% adults, 23% likely voters) or wouldn't affect the number of jobs (21% adults, 23% likely voters). Regarding other economic impacts, most Californians (58% adults, 60% likely voters) expect gasoline prices to increase due to state action on climate change. Also, half of adults (51%) and likely voters (50%) say they would be willing to pay more for electricity generated by renewable sources.
Access to Clean Drinking Water in Low-Income Areas Raises Concern
Earlier this year, California was declared drought free for the first time since 2011 by the US Drought Monitor. While 30 percent of Californians say water supply is a big problem, this is down 18 percentage points from just a year ago and 40 percentage points from the record high in September 2015.
When it comes to water quality, however, most Californians are concerned about the supply of clean drinking water in lower-income communities in their part of the state: 58 percent say polluted drinking water poses a more serious health threat in lower-income areas. This view is most prevalent in Los Angeles (70%), followed by the Central Valley (59%), the San Francisco Bay Area (55%), Orange/San Diego (51%), and the Inland Empire (49%). African Americans (82%) and Latinos (70%) are more likely to hold this view than Asian Americans (59%) and whites (48%).
The recently enacted state budget allocates $130 million from the Greenhouse Gas Reduction Fund (the state's cap-and-trade revenues) to support a clean drinking water fund. An overwhelming majority of adults (71%) favor this spending plan. Support is higher among African Americans (87%), Asian Americans (81%), and Latinos (81%) than among whites (61%).
"Majorities of Californians view pollution of drinking water as a more serious problem in low-income communities and support the recent state law creating a clean drinking water fund," Baldassare said.
Only about a quarter of Californians (27% adults, 24% likely voters) say that air pollution is a big problem in their part of California. However, there is wide variation across regions. This view is most common in Los Angeles (43% of adults), the Central Valley (36%), and the Inland Empire (33%); it is far less common in the San Francisco Bay Area (14%) and Orange/San Diego (11%).
Californians Value the Coast, Worry about Debris, Oppose Drilling
An overwhelming majority of Californians (77%) say the condition of the ocean and beaches is very important to the economy and quality of life for California's future. A similar share (72%) say that plastics and marine debris are a big problem in the part of the California coast that is closest to them, with this view held by overwhelming majorities across the north and central coast (73%), the south coast (72%), and inland (70%).
"Seven in ten Californians say that ocean and beach conditions are very important to California's future and report that plastics and marine debris are a big problem on the coast near them," Baldassare said.
A strong majority of Californians (67%) oppose allowing more oil drilling off the California coast, while an overwhelming majority (72%) support allowing coastal wind power and wave energy projects. These shares are generally consistent across regions.
Approval of State Elected Officials Is Steady
Approval ratings for Governor Newsom and the legislature have been stable during the first months of the new administration. Just under half of Californians (45% adults, 47% likely voters) approve of how the governor is handling his job, while smaller shares (31% adults, 39% likely voters) disapprove. These are similar to his approval levels in May and January. On the governor's handling of environmental issues in California, 45 percent of adults and 46 percent of likely voters approve.
Californians have similar ratings of the state legislature, with 42 percent of adults and 40 percent of likely voters approving of how the legislature is handling its job (41% adults, 48% likely voters disapprove). These approval levels are similar to those in May and last July. On the legislature's handling of environmental issues, 45 percent of adults and 43 percent of likely voters approve.
https://www.ppic.org/press-release/record-high-share-of-californians-concerned-about-global-warming-making-wildfires-more-severe/
Rats Infest Preschool Playground at CalEPA…Dilemma of Child Safety & Concerned Environmentalists
Sacramento Bee
For one activist group, cats and owls were the weapons of choice. Something needed to be done to kill the rats infesting the courtyard outside the California EPA building earlier this summer.
But not mongooses. Oh no. Not those.
"Should you be considering the vicious mongoose however we would suggest you reconsider; they are unreliable," the group known as Owls for Peace emailed CalEPA undersecretary Serena McIlwain on June 28.
By that point, McIlwain's agency had already approved setting out a controversial form of rat poison, whose use may soon be banned at state government buildings by the California Legislature. The poisons eventually proved effective at eliminating the rats.
"No owls are needed at this time," McIlwain later replied.
It wasn't an easy decision for the CalEPA. The state's top environmental watchdogs quickly discovered that regulating their own courtyard could be just as political and fraught with emotion as regulating the rest of California.
Dozens of emails, totaling 243 pages, obtained by The Sacramento Bee through a California Public Records Act request show the agency faced pressure from environmentally conscious staffers and environmental groups and animal rights activists from nearly the moment it decided to use the poisons.
In an email to staff late in the afternoon on June 13, CalEPA officials announced that in the coming days they would be setting out a type of second-generation anti-coagulant poison to kill the rats that had overrun the I Street building's exterior courtyard, which shares a playground with a daycare center used by the children of state government workers.
Fifty-five minutes after the email went out announcing the poisoning plan, Jennifer Fearing, one of the state's most influential animal welfare lobbyists, fired off an email to Jared Blumenfeld, Gov. Gavin Newsom's appointee who oversees the California Environmental Protection Agency.
"The CalEPA Building, which is frequented by peregrine falcons, is being treated with anticoagulant rodenticides because rodents have been 'observed' in the EXTERIOR courtyard?! Tell me this can be stopped." she wrote.
The Department of Pesticide Regulation, based in the CalEPA building, has already restricted the use of second-generation anticoagulants to anyone but licensed professionals, such as the ones hired by CalEPA to manage pests in and around its building.
Second-generation anticoagulants are some of the most effective poison baits pest control professionals use to manage rodent infestations, but the toxins have been found in sometimes lethal levels in the bodies of predators such as mountain lions and birds of prey that feed on poisoned rodents.
Nearly every prominent environmental group is lobbying for a pending bill that would ban their use statewide.
Some state workers in the building also were uncomfortable with the idea of setting out poisons at the workplace of the state's environmental regulators.
"Poison is not the EPA way," Jon Miltztrey, an information systems technician at CalRecycle, wrote in an email.
Less than a week later, CalEPA had placed a moratorium on the use of rat poisons at the building.
But highlighting how a statewide ban on rat poison might be challenging to carry out in practice, other CalEPA emails show there was another faction lobbying to poison the rats: the daycare's operators and the families of the children who were unable to play in a playground crawling with vermin.
"My staff was preparing the toddler play yard for power washing tonight and as they started to move items that usually aren't easily movable, we discovered rat poop, pee, and nesting materials," Ashley Teeney of the Mindful Miracle daycare center wrote in an email that was forwarded up the CalEPA chain of command two days after the moratorium.
"My teachers spent two hours of their day sorting through items that have been saturated in rat droppings, moving every item in the play yard to scrub pee stains, and dispose of toys/mats that have been damaged by the rats. Not only did this take a great deal of time, it's also very concerning to have my staff and children exposed to these types of conditions at work."
Laura Drabandt, an attorney with the State Water Resources Control Board, an agency housed in the building, was one of the parents outraged the agency had banned rat poisons.
"I am furious that the building management company is not allowed to employ any manner deemed necessary to rid the grounds of the vermin that have settled into their new homes," Drabandt wrote. "Rats beget rats, and … this infestation is only going to worsen at our children's expense."
Such concerns are not idle. Los Angeles County has seen a troubling resurgence of rats and typhus, an infection spread via fleas carried by rats and other animals.
In the end, CalEPA leadership rescinded the moratorium after other efforts to control rats, such as trash removal, were insufficient, and suggestions including using owls and cats to kill the rats proved impracticable, though Owls for Peace didn't think so.
"Although we recognize you may have found an affordable owl rental contractor and not thought to inform us," the organization wrote in a follow-up inquiry wondering why it got no response from CalEPA to its first email. "We would rest easier in our minds if we knew with certainty that our keen eyed avian allies were swooping down soon against the rodent menace."
The state deployed a less-potent, first-generation rat poison instead. The poisons worked, and the play area has been reopened, according to Alex Barnum, a CalEPA spokesman. "While the rodenticide was removed, we will continue implementing the other measures, including keeping the outside areas clean and free of debris and covering openings with wire mesh, to prevent a recurrence."
Meanwhile, under Democrat Assemblyman Richard Bloom's pending legislation, Assembly Bill 1788, the first-generation poison CalEPA used would be banned from use on state property.
The bill makes no exceptions for rats overrunning playgrounds.
https://www.sacbee.com/article233592047.html#storylink=cpy
Rural Solar Power Must Shine Brighter
Grist
If California is to meet its goal of running on 100-percent clean electricity by 2045, fields that once grew hay are going to have to start producing electrons. That's according to a new report from The Nature Conservancy that estimates the state will need to cover an area at least twice as large as Yosemite National Park with solar panels and wind turbines.
That may seem like an ambitious ask, but the amount of California land devoted to renewable energy is already slated to grow exponentially. Part of the driving force is water scarcity: A state law now requires water regulators to figure out how to balance their accounts so that groundwater levels stop dropping. (For the past 50 years California has been pumping far more water out of the ground than filters back into aquifers.) To comply, farmers would have to stop irrigating at least half a million acres, according to a study by the nonpartisan Public Policy Institute of California.
Letting valuable land go unirrigated isn't exactly appealing to many growers. But the Nature Conservancy report suggests a good chunk of that acreage could be used for solar and wind farms. The report states that between one-third and one-half of the space needed by the state for renewables could come from agricultural acres starved for water.
California farmers have already begun embracing solar panels. For some grow operations, installing a small number of solar panels has been a way to save on energy bills. A few years ago the Bowles Farming Company, near Los Banos, California, put up solar panels on four acres to partially offset the electricity needed for a new drip-irrigation system. "When we converted to drip we started to see increased costs because we'd gone from gravity-driven irrigation to pump-powered irrigation," said Derek Azevedo, the executive vice president of Bowles. Azevedo said the investment is paying off, and the company is planning on erecting more panels.
Other farmers are converting much bigger sections of their land to solar farms. The Los Angeles Times recently listed a few of the major projects underway: There are plans to build the largest solar farm on earth on agricultural land, in California's Central Valley. Maricopa Orchards, at the southern end of the Central Valley, is putting up 4,000 acres of solar panels, and setting aside 2,000 acres of habitat for kit foxes and burrowing owls, as environmental mitigation.
But for all the energy sense it makes to plant solar panels in sun-soaked agricultural areas, the Nature Conservancy notes that there may be pushback when it comes to the impact on native flora and fauna. Unless new solar operations are placed carefully, those miles of panels could destroy important habitat for wildlife, and cover some of the most bountiful farmland in the world.
Another potential roadblock: while planting solar panels where almond trees once bloomed could help defuse California's looming water crisis, so far, most installations have gone up on cattle pasture and other types of land that offers low profits per acre, said Ellen Hanak, who directs the Water Center at the Public Policy Institute of California.
"A lot of it is going on non-irrigated rangeland," she said. But if farmers will also have to stop growing on irrigated land to avoid overdrawing aquifers. Solar panels would make sense on about 9 percent of this idled land, according to the Public Policy Institute of California's estimates.
But that's not stopping several California ag bigwigs from jumping on the solar bandwagon. Lynda and Stewart Resnick, who control more farmland than anyone else in America, are building solar panels on the massive pomegranate, citrus, and nut plantations of their Wonderful Company, north of Bakersfield. The company should be able to make as much money selling solar power as it does selling almonds and pistachios within the next few decades, Steven Swartz, the company's vice president of strategy, told the Times.
And a 20,000-acre solar farm — the largest in the world — is planned on the west side of the Central Valley, on land tainted with crop-choking salts, according to the Times.
And what about the rest of the acreage needed to meet California's clean energy goals? The Nature Conservancy's analysis suggests that, if it builds major transmission lines to other states, California could meet its energy needs without spilling into important wildlife habitat.
https://grist.org/article/california-farmer-solar-panel-water-renewable-nature-conservancy/
LA County Studies Plan to Ban Fossil Fuels
LA Curbed
Oil derricks and refineries would disappear from the region.
Gas stations would become irrelevant.
Streetscapes would be dominated by electric vehicles, cyclists, and pedestrians.
That's the vision laid out in a sustainability plan that will be considered Tuesday by the Los Angeles County Board of Supervisors.
If carried out, the list of 159 action items included in the plan could dramatically transform LA's landscape in the coming decades. County officials call the scheme to phase out fossil fuels the "nation's most ambitious" regional proposal.
"We recognize the climate crisis and the need to act," says Gary Gero, the county's chief sustainability officer. "This is going to be a lot of hard work."
Like the city of LA's sustainability initiative, referred to by local officials as a "Green New Deal," the county's plan calls for complete carbon neutrality by 2050—meaning that carbon emissions would be reduced to zero or completely offset on a countywide level.
By many estimates, that may be too slow.
According to the Intergovernmental Panel on Climate Change, global warming could reach 1.5 degrees Celsius above pre-industrial levels by 2030, with potentially devastating consequences. But the proposals from the city and county put Los Angeles in a position to honor the Paris Accord, which the U.S. abandoned in 2017.
Many elements of the plan could come together sooner. Gero says a proposal to power all of the county's unincorporated areas using renewable energy could be realized even sooner than the 2025 goal included in the document.
Eliminating the county's carbon footprint, even over a 30-year period, will require major shifts in LA's planning process. Near-term solutions recommended in the plan include elimination of parking requirements for new housing and installation of bus-only lanes throughout the region.
Both strategies could be a tough sell for drivers and those wary of residential density. The reduction—or elimination—of parking minimums was a sticking point in debate over Senate Bill 50, a transit-oriented development proposal that remains stalled in the state legislature.
Meanwhile, multiple Metro plans for new dedicated bus lanes along major corridors like Colorado Boulevard have recently come under fire from some drivers and local officials.
Gero says the county's strategy for cutting carbon emissions relies on convincing more people to walk, bike, or take public transit when traveling through the region. By 2045, the sustainability plan calls for a 50 percent increase in these types of trips—and a reduction in the number of miles residents drive each day to less than half of current levels.
"We're going to have to have an open and honest dialogue about what the region needs," Gero says. "Some people are going to be resistant, but this kind of change is never easy."
Another likely challenge is the county's proposal to "sunset" petroleum operations, eventually ending oil drilling and refining in a region that once ranked among the world's most prolific oil production sites.
California's oil boom is over, but the petroleum industry remains a major driver of the state's economy, and Gero says a key part of phasing out fossil fuels will be replacing oil industry jobs and creating opportunities for green energy providers.
One segment of the plan calls for job training and creation of a "just transition" task force to ensure workers aren't left behind in the pursuit of a greener economy.
As in the city's sustainability initiative, the plan includes no guarantees that the county will meet its goals. One major obstacle is that the Board of Supervisors has limited jurisdiction over the 88 individual cities found in LA County. That means plenty of coordination between city, county, and state agencies will be required to make any of this happen.
Gero says county department heads will be required to provide frequent updates on progress, with the sustainability goals serving as barometers of success. Ultimately, though, it will be up to residents to see these plans through.
"Ultimately it's the stakeholders who will hold us responsible," he says.
https://la.curbed.com/2019/8/5/20755100/los-angeles-county-sustainability-plan-green-new-deal
KQED
State regulators say they're cautiously optimistic that a major release of crude oil from a Chevron well in Kern County — an episode that has continued for three months — is finally over.
Chevron told state officials Wednesday that more than 1.3 million gallons of oil and water have flowed to the surface in the Cymric oil field, 35 miles west of Bakersfield, since May 10. An estimated one-third of that, or 445,130 gallons, is believed to be crude petroleum.
The spill, which Chevron and the state's Division of Oil, Gas and Geothermal Resources describe as a "surface expression," has led to a major cleanup operation near the town of McKittrick.
A DOGGR engineering team at the release site says all of the vents associated with the incident "became inactive" late last week, according to Don Drysdale, a spokesman for the state Department of Conservation.
"We're hopeful that the surface expression has ceased but mindful that we need to continue monitoring the situation and looking into the causes of this unusual incident," Drysdale said Wednesday.
Crews have recovered most of the oil and water mixture from the spill, said Eric Laughlin, a representative for the state Department of Fish and Wildlife.
Laughlin expressed caution about the situation because the flow has previously stopped and started several times.
"We are still monitoring the site as cleanup operations continue," he said, adding that the last flow was last Friday, Aug. 2.
State officials say a civil engineer deemed a portion of the site safe last week, so contractors could begin hauling away contaminated soil from the 1-acre spill site.
A second section of the site has not yet been declared safe, Laughlin said.
Chevron had hired two Bakersfield contractors to work on the cleanup job, Advanced Industrial Services and Sturgeon Services, according to Morgan Crinklaw, a spokesman for the oil company.
State regulators recently brought in nine experts from the Sandia, Lawrence Berkeley and Lawrence Livermore national laboratories to help evaluate the causes of the protracted release.
Chevron has said the probable cause was related to its efforts to seal off a damaged and abandoned oil well. The firm says its attempts to confirm the source of the original leak and shut it down unleashed even higher flows in the weeks after the initial problem was discovered.
DOGGR has issued two notices of violation to Chevron and ordered the oil company to "take all measures" to stop the flow and prevent a recurrence of the releases. Chevron is appealing the state's order, which it says lacks specifics.
"Despite the appeal, Chevron continues to do work required in the order to ensure the seepage ceases and clean up the surface expression," Drysdale said.
The spill has added fuel to arguments by environmental groups who want California to shift more aggressively away from oil and gas and believe state regulators are too soft on the industry.
"It's shocking that it's taken this long for the company and state officials to stop this dangerous pollution," said Clare Lakewood, a staff attorney at the Center for Biological Diversity, in an emailed statement Wednesday.
The incident is also expected to be the focus of legislative hearings. The chairs of the state Senate and Assembly committees overseeing much of California's oil industry say they plan to scrutinize the cause and response to the spill.
https://www.kqed.org/news/11766115/state-agency-hopeful-chevrons-massive-kern-county-spill-is-finally-over
State Recycling Agency Struggles
Commentary from CalMatters
Thirty years ago, the Legislature passed and then-Gov. George Deukmejian signed the Integrated Waste Management Act with the stated goal of reducing, recycling or composting 75 percent of the state's "solid waste" by 2020.
It created a full-time, six-member Integrated Waste Management Board and equipped it with new powers to compel local governments and private entities to do what was necessary to meet the goal.
A new state agency, known as CalRecycle, was formed to promote recycling of glass, plastic, paper and other materials and it was assumed that if everything went well, there would be a ready global market for them.
However, the 1989 law was not the end of political attention to reducing the amount of waste that either went into landfills or wound up polluting streams, rivers and the Pacific Ocean.
Dozens, perhaps even hundreds, of additional laws were passed in the following years, as this year-by-year compilation shows. Most recently, the Legislature banned single-use plastic bags that grocers and other merchants had been issuing to their customers.
With the 2020 deadline looming, however, the reduction goal may be getting further away, as CalMatters environmental writer Rachel Becker details in the first article of her series on the issue.
In part, it's because global markets for California's recyclables has been shrinking. Buyers such as China have become less willing to accept materials by limiting what they will buy and demanding higher quality – a situation that stems, at least in part, from the Trump administration's broader trade conflict with China.
China's 2017 restrictions on imported recyclables "started sending recyclers and recycling markets into a tailspin here," Kate O'Neill, an associate professor in environmental science at the University of California, Berkeley and an expert on the international waste trade, told Becker. Since then, countries including Thailand, Vietnam, and India have announced plans to ban scrap plastic.
CalRecycle, which has a $1.5 billion annual budget, has been fairly successful in persuading Californians of the need to separate their recyclable waste from ordinary garbage headed for the dump, but it and local governments have not done a very good job of educating consumers about what is acceptable, which has exacerbated the global market problem.
The shortcomings in California's waste management program have not gone unnoticed. Those involved at the working level, particularly recyclers, have complained repeatedly about a lack of financial incentives.
The state auditor's office has issued regular critiques of the beverage container recycling program, which is one of the most important aspects of CalRecycle's efforts. Consumers pay recycling fees, typically a nickel a container, and then can return containers to recycling depots to reclaim their deposits.
One report, issued five years ago, says the "program's long-term financial health is at risk" because its costs were outstripping revenues by as much as $100 million a year. Countless recycling centers shut their doors and fraud, the auditor said, is a major shortcoming of the beverage container program as containers are shipped into California from other states to claim refunds.
https://calmatters.org/commentary/recycling-plastic-may-be-a-wasted-effort/?utm_source=CALmatters%20Newsletter&utm_campaign=5f9259207e-WHATMATTERS_NEWSLETTER&utm_medium=email&utm_term=0_faa7be558d-5f9259207e-150181777