For Clients & Friends of The Gualco Group, Inc.
IN THIS ISSUE – "He Appreciates the Fierce Urgency of the Times"
CAL CAPITAL
Newsom's Eclectic Calendar
ECONOMY
National Economy Early Warning From RV Capital
RESOURCES
Researchers May Save Salt-Plagued Farmlands
Capital News & Notes (CN&N) harvests California legislative and regulatory insights from dozens of media and official sources for the past week, tailored to your business and advocacy interests.  Please feel free to forward.
 Stay current daily!  For our focused updates via Twitter: @jrgualco / @robertjgore / @gualcogroup
 READ ALL ABOUT IT!!
FOR THE WEEK ENDING AUG. 23, 2019
Gov. Newsom's Eclectic Calendar
PoliticoPro, 8/19, no link
Gov. Gavin Newsom has kept a packed schedule during his first six months in office. Crises in California and spotlight issues have led him to meet with celebrities, CEOs and even Republican Party leaders. POLITICO obtained Newsom's calendars through public records requests and analyzed his meetings to tell the story of his first half year in office.
The calendars offer a glimpse of how the new governor started his term and whom he accepted meetings with ahead of key legislative decisions and crises, from the fire in Paradise that killed 86 people to the bankruptcy of Pacific Gas & Electric Co.
The governor talked with the CEOs of California's three big utilities in the days surrounding the bankruptcy of PG&E and with Kim Kardashian West for an hour in late January.
The executives pressed for favorable treatment of their companies as the state weighed whether ratepayers or utilities should shoulder the high cost of worsening wildfires. And Kardashian West is trying to help free Kevin Cooper, convicted and imprisoned at San Quentin State Prison for the 1983 killings of a couple and their two children. Less than a month after the meeting, Newsom issued an executive order requiring additional testing of DNA evidence in the quadruple murder case.
Ahead of a Democratic push to toughen California's strong vaccination laws in the wake of measles outbreaks, Newsom met with vaccine critic Robert F. Kennedy Jr. The meeting came months before Newsom voiced concern about undercutting personal vaccination decisions — echoing RFK Jr.
Newsom's calendar includes substantial time with California lawmakers and union leaders, including from the California Teachers Association and the California Correctional Peace Officers Association. He's also met with state and national Republican leaders, including House Minority Leader Kevin McCarthy of Bakersfield and then-Homeland Security Secretary Kirstjen Nielsen, several Silicon Valley technology executives and his gubernatorial primary opponent, Antonio Villaraigosa.
Top Newsom aide Daniel Zingale said he has attempted to persuade Newsom to focus on a few signature issues, but Newsom has sought to buck conventional political wisdom, instead vowing to tackle a firehose of major issues at once. "He is a governor who has an acute appreciation of the fierce urgency of the times we live in," Zingale said.
Newsom's schedule shows two meetings in February about a "book project" with Penguin Press President Ann Godoff and book agent Elyse Cheney. The governor told POLITICO on Thursday that he is working on a children's book about dyslexia, with which he and at least one of his four children have been diagnosed. He would not say whether he is working on another book beyond that. His earlier book, "Citizenville," was published by Penguin Books in 2013.
Newsom's book project comes as he has worked to elevate his national profile. He dedicated several hours for national media figures, part of his effort to bolster his image as a face of anti-Trump progressivism.
POLITICO California pored over the governor's calendars and discussed his meetings with key political and policy players in California. While Newsom's public calendar does not represent a complete record of his work in office or meetings he's held, it offers the first comprehensive snapshot of how he dealt with crises while balancing his push for an ambitious $215 billion spending plan during his first year in office.
Assembly Ponders Senate Leader's Environmental Protection Bill
Sacramento Bee
The Assembly may consider a far-reaching law that would lock current environmental protections into place and would only be in effect until the end of Donald Trump's presidency.
The premise of the Senate Bill 1 is simple: to maintain environmental and worker safety standards that the state has had in place for decades, even if the federal government rolls them back.  The bill is before the lower house Appropriations Committee.
Standards that were effective before Jan. 19, 2017 (the day before President Trump took office) would be enforceable under state law until January 20, 2025, or when Trump would leave office if he wins a second term.
Trump has made eliminating environmental regulations a priority. It's why Senate President Pro Tem Toni Atkins, D-San Diego, says it's necessary for California to have an "insurance policy against the exploitation of our natural resources and our people."
"SB 1 would insulate California from systematic undermining of the regulatory process at the federal level and the weakening of our clean air, clean water, safe drinking water, endangered species, and worker protection acts that were all adopted on a bipartisan basis in the 1970's," Atkins said in a statement.
California currently holds the burden of initiating lawsuits against the federal government on environmental policies it doesn't support. Advocates say the measure would shift the burden of making legal challenges to the federal government.
Although California has its own environmental laws, it relies on the federal government for some protections.
Right now, California can address weakening of any standard through litigation and negotiation. The bill would be "one more tool in California's toolbox" to protect state resources in the event of federal changes, according to Annie Notthoff, the western advocacy director of the Natural Resources Defense Council.
How is this legal? States have jurisdiction to pass their own environmental laws. In fact, the Endangered Species Act clearly asserts that state laws are allowed to be more restrictive than the regulations in the act.
If federal changes occur, the bill would let California more quickly adopt any air, water, endangered species and certain workers' safety standards – as they existed before the Trump administration took office – into state law.
Senate Bill 1 is not the first of its kind. In 2003, California passed a similar law, SB 288, aimed at protecting the state against any rollbacks on federal air regulations implemented by the Bush administration. That law is narrower in scope than the one under consideration now and has never been used.
In May, Oregon Gov. Kate Brown signed a similar law that allows her state to adopt federal environmental standards of the Clean Air and Clean Water Acts that were effective as of Jan. 19, 2017 if the federal government rolls them back.
The most contentious part of the California bill would subject the Central Valley Project, a federal project, to the state's Endangered Species Act.
The California Chamber of Commerce, an opponent of the bill, says that provision goes too far.
"It is completely unconstitutional to force a federal agency to adhere to a state standard," said chamber policy advocate Adam Regele, citing the Supremacy Clause of the U.S. Constitution.
Notthoff from NRDC thinks otherwise.
She pointed to the 1992 federal Central Valley Project Improvement Act, which she said requires the U.S. Bureau of Reclamation to comply with state law for operations on the Central Valley Project.
Put simply, whether or not California's Endangered Species Act can legally apply to a federal project is an open question of law, and would most likely result in a lawsuit.
The bill has a severability clause that would mean that the rest of the measure would still apply even if one part of it is challenged.
Many of the opponents support the main intent of the bill, but farm and water agencies say portions of it could interfere with their efforts to make water supply more reliable.
The most contentious part has to do with locking into place an old regulatory approach on water under the state Endangered Species Act.
In 2016, the Obama administration began implementing regulations that would clamp down on Southern California cities and farmers in the San Joaquin Valley from taking as much water from the Sacramento-San Joaquin Delta to protect endangered fish.
The Trump administration last year began rolling back those rules and creating new ones with the explicit goal of pumping more water to farmers.
That's one reason farm groups oppose SB 1.
Meanwhile, the water users argue SB 1 could also derail proposed water-sharing and river habitat restoration projects, under compromise "voluntary settlement agreements" former Gov. Jerry Brown and Gov. Gavin Newsom tried to broker before Brown left office last year.
Final approval for this "voluntary agreement" approach is expected by 2021, according to Mike Wade, executive director of the California Farm Water Coalition.
Some environmental groups are skeptical that voluntary agreements will be honored because they may not have the same force of law that the previous regulatory approach had.
SB 1 would make the old regulatory approach California law. Because the bill doesn't have language that protects "voluntary agreements," opponents said stakeholders will walk away from the table if this bill passes.
"This is a whole effort we've been working on for years. It would be wasted time and energy," said Jeff Kightlinger, general manager of the Metropolitan Water District of Southern California.
Many stakeholders believe that this new project-oriented approach is a better way to improve habitat and flow in the Delta than the old regulatory way.
"It's our hope that the Legislature will find its way through its thorny path that achieves the goal of the bill while not upending the other Herculean efforts to invest in California's environment," Wade said.
https://www.sacbee.com/news/politics-government/capitol-alert/article233712722.html#storylink=cpy
CA Dems Lead National Secretaries of State Campaign
California Democrats have spent the last decade busily removing barriers between would-be voters and the ballot box — in fact, they've been so successful, they may be running out of strategies to drive up turnout.
So now the state's top election official is taking the California model national. The goals: Get other states to adopt vote-boosting policies, and boot Republican secretaries of state out of office.
California Secretary of State Alex Padilla announced a new campaign this morning to unseat his Republican counterparts in Oregon, Washington, Montana, Missouri and West Virginia in 2020. He also wants to protect two Democratic Secretaries of State, in North Carolina and Vermont.
Padilla's isn't leading the charge in his official capacity of California's election regulator, but as chair of the Democratic Association of Secretaries of State.
In a campaign video, Padilla said the association will take on Republican Secretaries of State who are "helping Trump wage a Jim Crow-style assault on our voting rights, targeting students, seniors and people of color."
"When Secretary Padilla took over in February (of 2018), he came in with big ambitions, saying its just not enough that we're pushing for reform in California," said David Beltran, a consultant for the association.
"Things can be great here in California but we have a vested interest in how things are playing out in the quote-unquote battleground states across the country," Padilla told CalMatters in the lead up to last year's election.
The new effort taps into a renewed Democratic Party focus on both voting rights and the mechanics of elections.
Last week, Stacey Abrams, who narrowly lost her run for governor of Georgia last year, announced a 20-state "voter protection" campaign aimed at helping voters get to the polls and advocating for reforms that would remove barriers to voting.
Likewise — in the wake of a recent U.S. Supreme Court decision that gives state governments free rein to draw electoral maps that favor one party over another — many would-be reformers are holding up California's example of creating a citizen's redistricting panel. Both former U.S. Attorney General Eric Holder, a Democrat, and former California Gov. Schwarzenegger, a Republican, are pushing other states to take redistricting away from self-interested politicians.
But the politicization of what was once a quiet, bureaucratic office of chief election regulator is not new, said Rick Hasen, an election law expert at University of California Irvine.
"People realize that the rules of the game matter," he wrote in an email, "and in many states Democratic Secretaries of State would run elections in different ways than Republicans."
That may be an understatement. While Padilla and many of his Democratic counterparts across the country have championed legislation to allow teenagers to pre-register before they turn 18, to permit voters to register on election day, and to encourage voting by mail, Republicans have focused on strategies to keep ineligible voters from participating in elections.
That partisan split has been amplified by President Donald Trump ,who has claimed—repeatedly and without evidence—that his dismal margins in California and his loss of the popular ballot by about 3 million votes in 2016 were due to rampant voter fraud by undocumented immigrants.
Founded in 2008, the Democratic Association of Secretaries of State is a nonprofit political committee that receives its biggest donations from a combination of organized labor groups (the California Nurses Association, the Service Employees International Union, and the teamsters, for example) and business interests such as Disney and large pharmaceutical companies.
Paul Nolette, a political scientist at Marquette University in Milwaukee who has studied the politicization of state attorneys general, "is consistent with polarization across the country in general."
"Secretaries of state are in the cross hairs because voter rights have risen much more on the agenda both for Republicans and Democrats," he said. "These state level positions are just much more tied to national politics now."
https://calmatters.org/blogs/california-election-2020/2019/08/california-padilla-elections-trump-voter-rights-fraud/
California Economy Flashes Downturn Signals…
Legislative Analyst's Office
Bottom Line: The chances of a downturn appear to be increasing, but it is too soon to draw firm conclusions. 
Knowing when the state's next budget slowdown will happen is impossible. Many economic factors outside the state's control influence state revenues. Despite this, certain data points can help us understand whether shifting economic conditions are likely to lead to growth or declines in state revenues in the coming months.
We created the State Fiscal Health Index to track the strength of economic conditions relevant to the state's fiscal health. The index ranges from 0 (representing the lowest level in the last 25 years) to 100 (representing the highest level in the last 25 years). Both the level of the index and changes in the index from month to month offer information about the state's fiscal health. When the index is high, revenues tend to be high compared to historical norms. Similarly, when the index is increasing, state revenues are likely to increase over the next six to twelve months. On the flipside, a consistent decline in the index over a few months has typically signaled that the state is entering an extended period of revenue weakness.
The figure below shows the index through June 2019. The index remained near historic highs in June.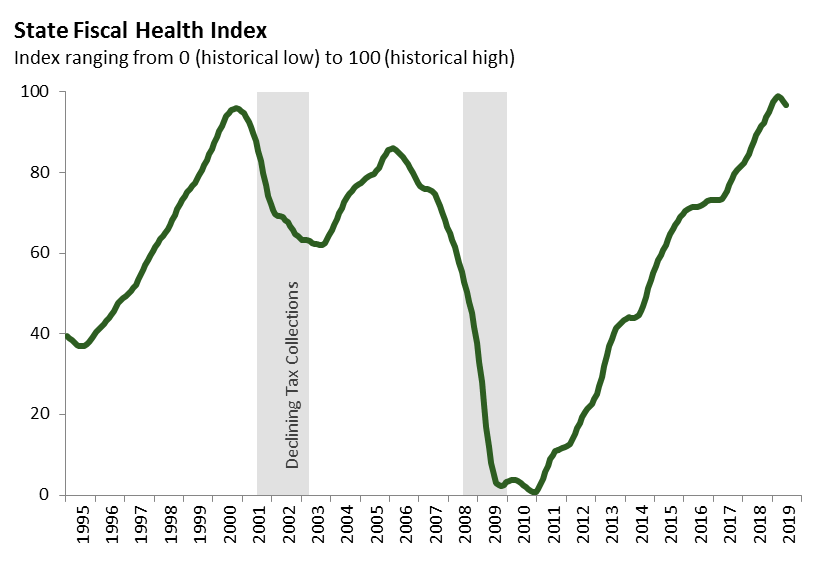 Although the index remains high, it has declined for three straight months. Declines of this magnitude have not been observed since the last recession. Weakness appears most pronounced in housing. Building and sales have slowed consistently over the last year, while prices have stagnated. In addition, new car sales (one indicator of the strength of consumer spending) have shown a pattern of decline throughout most of 2019. Most other indicators, while not outright declining, have stagnated. While a three month trend is not enough to draw firm conclusions, each additional month of decline in index increases the risk that an economic slowdown is on the horizon.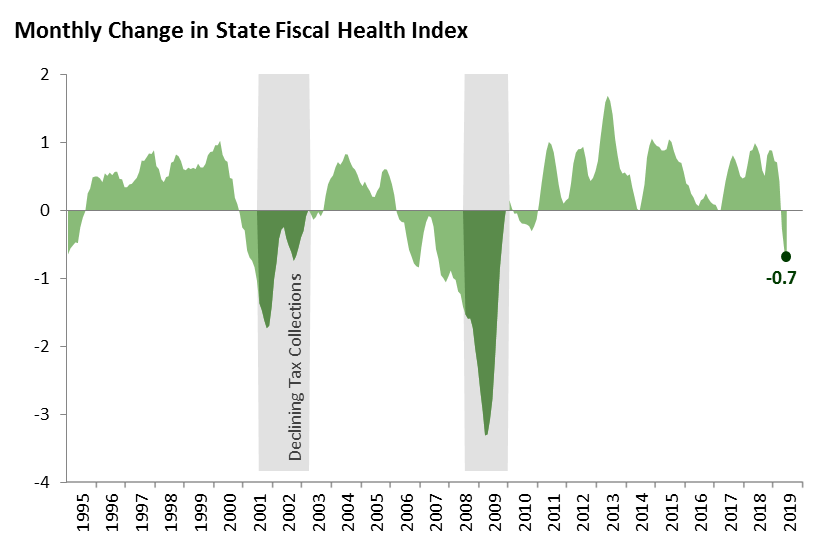 The index combines ten key data points: home prices, home sales, residential and commercial building permits, the S&P 500 stock market index, venture capital funding, unemployment insurance claims, CalFresh claims, port traffic, and new car sales. With the exception of the S&P 500, all of this data is specific to California. An increase in these economics variables signals a more positive revenue situation, while a decline suggests a worsening revenue outlook. There are two exceptions to this pattern: claims for unemployment insurance and CalFresh. When claims for unemployment insurance and CalFresh decline this signals an improving revenue situation, while rising claims signal a worsening situation. The graph below shows the recent trends in these variables.
https://lao.ca.gov/LAOEconTax/Article/Detail/390
…While Tax Revenue Continues to Surpass Forecasts
Legislative Analyst's Office
July Collections Exceed Estimates.
As shown in the figure below, preliminary July revenue collections were $509 million above the administration's estimates. As has been the case throughout 2019, personal income tax (PIT) withholding continues to be strong, growing 7.5 percent compared to the same period last year. Similarly, corporation tax collections also continued to be strong, with estimated payments 33 percent above the administration's projection. The next important collection month is September, when some corporations' final 2019 estimated payments are due and the third of four estimated payments for PIT filers are due.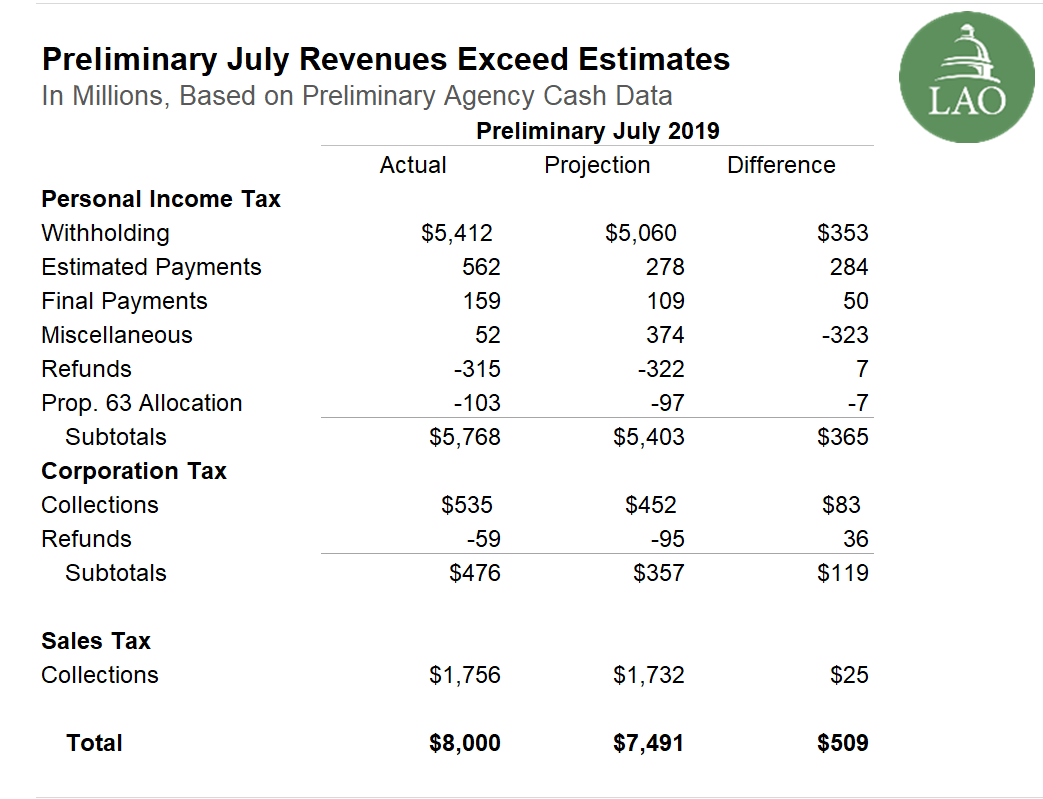 https://lao.ca.gov/LAOEconTax/Article/Detail/391
California Home to 1 Out Of 7 Clean Energy Jobs
San Jose Mercury
Clean energy jobs in California now outnumber jobs in the fossil fuel industry five to one, a new study has found, an increase driven by the state's ever-expanding renewable energy and climate laws.
More than 512,000 people are employed in jobs related to clean energy  — from installing solar panels to building electric cars — making the state home to 1 in 7 such jobs in the United States, the study found. Those numbers are expected to grow further in the coming years, as California further ramps up efforts to address climate change.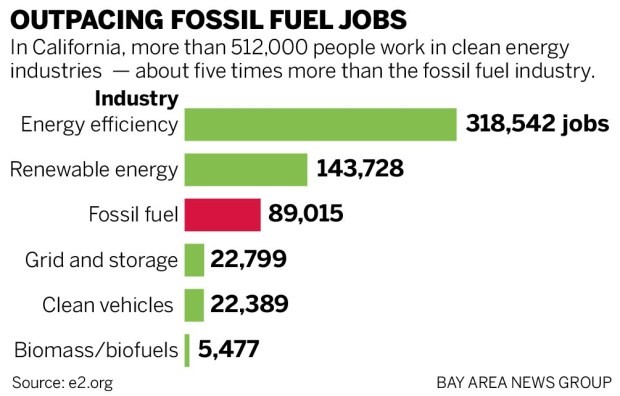 "The clean energy industry is a large and growing part of our economy, certainly here in California, but nationally as well," said Bob Keefe, executive director of Environmental Entrepreneurs, a non-profit group with offices in San Francisco and San Diego that compiled the data.
"With the right policies, we can keep these clean energy jobs growing in red states, blue states, purple states," Keefe said, "and in every county in California from Humboldt to San Diego."
Studies like the one released Tuesday are often controversial because experts disagree about how clean energy and fossil fuel jobs should be defined.
The study was based on an annual survey of businesses called the 2019 U.S. Energy and Employment Report, a snapshot of the energy industry that in the past was put out by the U.S. Department of Energy.
But the survey was discontinued after President Trump took office in 2017. In recent years, the report has been compiled instead by two non-profit groups using the same methodology, the Energy Futures Initiative, and the National Association of State Energy Officials.
Among the study's findings for California:
Statewide, there were 512,934 jobs in the clean energy industry in 2018. Those included jobs in renewable energy, like installing solar and wind power, building electric and hybrid vehicles, doing energy efficiency work in buildings, manufacturing clean fuels and building battery storage projects.
That same year, there were 89,059 jobs in fossil fuel industries, including drilling jobs at oil and gas fields and offshore platforms, oil refinery work and mining jobs, but not attendants who work at gas stations or the stations' convenience stories.
Nearly four in 10 solar jobs in America are in California.
The only state with more clean vehicle jobs than California is Michigan.
The top counties ranked by total clean energy jobs are Los Angeles, Orange, Santa Clara, San Diego, San Francisco and Alameda.
Growth was largely flat last year compared to the year before, the study found. California's 2018 clean jobs total was just slightly up from its 2017 total of 512,233 clean jobs. The reason was a 7.5 percent dip in solar industry jobs, which industry officials say was in part a result of tariffs imposed by the Trump administration on Chinese-made solar panels, which increased the costs for U.S. homeowners considering installing solar on their roofs.
That trend is expected to change this year, Keefe said, because California regulators have passed new rules requiring all new homes constructed after Jan. 1, 2020 to either have solar panels on their roofs or be powered from electricity from a solar farm.
"We'll start to see that swing back in the other direction very soon," he said.
Kara Greene, a spokeswoman for the Western States Petroleum Association, did not disputed the report's employment numbers for fossil fuel companies. But, she noted, oil companies also work in renewable energy, biofuels and industrial plant efficiency.
"Our industry likes clean energy jobs, in fact, we created a whole lot of them included in this report," Greene said.
She cited the Belridge Solar Project, under construction now west of Bakersfield. That project, being built by Aera Energy, which is owned by ExxonMobil and Shell, will use solar thermal power, rather than natural gas, to generate 850 megawatts of electricity to power oil field operations, reducing the greenhouse gas emissions by an amount the company says is equal to 80,000 cars.
As the Earth continues to warm, California has ramped up its clean energy laws. Last year, Gov. Jerry Brown signed a law requiring 60 percent of the state's electricity to come from solar, wind and other renewable sources by 2030 and 100 to come from "carbon-free" sources, which can include nuclear and large hydro-electric dams, by 2045.
This year, 34 percent of the state's electricity is generated from renewable energy, according to the California Energy Commission. The state's greenhouse gas emissions peaked in 2004, and have fallen roughly 15 percent since then. By the end of this year, more than 1 million homes in California will have solar power on their roofs.
And the highways are greening. There are now more than 500,000 electric vehicles on the road in California, more than any other state. But that number will have to increase significantly for California to hit its goal of 5 million by 2030.
Jim Sweeney, a professor of management and engineering at Stanford University and former director of Stanford's Precourt Energy Efficiency Center, said the numbers are accurate and the organizations that released it are credible.
But, he said, nearly two-thirds of the jobs described as clean jobs are in energy efficiency, he noted. Many of those jobs, like installing heating and air conditioning systems, are not new jobs, but rather jobs that are changing as technology changes.
"It's not like there are any jobs created because people are installing furnaces, just because some percentage of them are energy efficient," Sweeney said. "It's relabeling existing jobs."
Sweeney said a more "apples to apples" comparison to the fossil fuel industry would be comparing jobs generating and installing renewable energy to jobs producing fossil fuels and operating power plants that run on them. That "supply side" comparison, he estimated, would show about the same number of clean energy jobs as fossil fuel jobs in California.
"There has been significant employment in the renewable energy industry," he said. "That's a good thing. But some of this report exaggerates."
https://www.mercurynews.com/2019/08/20/new-report-california-has-five-times-more-clean-energy-jobs-than-fossil-fuel-jobs/
National Economy Early Warning From RV Capital
Wall Street Journal, 8/19, no link
Elkhart, Ind., is flashing a warning sign that a recession could be just ahead.
Capital of the country's recreational-vehicle industry, the northern Indiana city and the surrounding area are watched by economists and investors for early indications of waning consumer demand for luxury items, often the first sign of economic anxiety.
Shipments of recreational vehicles to dealers have fallen about 20% so far this year, after a 4.1% drop last year, according to data from the RV Industry Association. Multiyear drops in shipments have preceded the last three recessions.
"The RV industry is better at calling recessions than economists are," said Michael Hicks, an economist at Ball State University, in Muncie, Ind. Mr. Hicks says softening consumer demand for RVs coupled with rising vehicle prices due to tariffs suggests the economy is either in a recession or soon headed for one.
The Dow Jones Industrial Average posted its largest one-day decline of the yearlast Wednesday, when yields on the 10-year Treasury note briefly fell below yields on two-year notes for the first time since 2007. The phenomenon is often viewed as an indicator of a recession.
Elkhart has long offered its own economic bellwether—with captains' chairs and onboard bathrooms.
About 65% of recreational vehicles in the U.S. are made in the Elkhart region, as well as many of the tires, wheels, appliances and furniture that goes into them. Elkhart ships its RVs to dealers, who are careful to avoid carrying too much inventory and pull back orders when they sense cooling desire for a luxury item like an RV.
A drop in consumer demand can ricochet back to Elkhart. Unemployment in Elkhart County, which has a population of 200,000, was 3% in June, below the national rate of 3.6%, according to federal data. But it is up from a low of 2.1% in April 2018. Weekly hours worked fell by half a percent in June.
During the last recession, Elkhart's unemployment rate hit a high of 20% in 2009.
Federal Tug-O-War Over Biological Opinion on Water Shift to SJV
Sacramento Bee
Federal scientists pulled no punches in their report: The Trump administration's plan to send more water to San Joaquin Valley farmers would force critically endangered California salmon even closer to extinction, and starve a struggling population of West Coast killer whales.
But the scientists' findings weren't adopted, nor were they released to the public.
Instead, two days after scientists passed their findings on to the Trump administration on July 1, his officials responded by calling in a strike team to redo the 1,123-page report, documents and emails show.
Environmentalists and salmon fishing groups call it a clear-cut attempt by the Trump administration to whitewash science in order to crank up water deliveries to a group of well-heeled farmers who used to have a top Trump administration official on their payroll — a charge the administration denies.
The drama over the scientific findings is the latest battle in the never-ending feud over how much water gets pumped to farms and cities from the Sacramento-San Joaquin Delta, the fragile estuary on Sacramento's doorstep.
Here are four things you need to know to understand how California got to this point and what it means for the environment and its water supply.
For years, San Joaquin Valley farmers have chaffed at having their Delta water supply reduced to protect endangered fish swimming in the estuary and the rivers that feed into it.
Those farmers have an ally in President Donald Trump.
While campaigning for president in 2016, Trump promised a cheering Fresno crowd he would be "opening up the water" for Central Valley farmers who'd been victimized by "insane" environmental rules to protect fish.
Helping organize the rally were top officials at the Fresno-based Westlands Water District, the largest and most influential farming group in the San Joaquin Valley.
In 2017, Trump appointed David Bernhardt, a former Westlands lobbyist in Washington, D.C., to be deputy secretary of the U.S. Department of the Interior, which oversees the U.S. Fish and Wildlife Service and the U.S. Bureau of Reclamation, the agency that runs the federal dams and irrigation pumps in the Central Valley.
In October, with Bernhardt and a group Republican lawmakers at his side, Trump signed a memorandum that sought to ease the environmental regulations that hindered water deliveries.
"This will move things along at a record clip. And you'll have a lot of water. I hope you'll enjoy the water you'll have," Trump said at the time.
A few months later, Trump's U.S. Bureau of Reclamation released a report that sought to "maximize water supply and delivery" to Central Valley farmers while maintaining protections for fish.
By that point, Bernhardt was serving as the Interior's acting director — a job he later got outright.
Meanwhile, the National Marine Fisheries Service was under intense pressure to complete a scientific analysis that would detail how the administration's water plan would impact salmon, killer whales and other fish species.
Last summer, Maria Rea, a top fisheries scientist at the agency's Central Valley office, said her team didn't have nearly enough staff to complete the job under a hurried timeline set by the Trump administration.
"We do not have resources to undertake this consultation," Rea wrote in an July 25, 2018 email, which was first reported by KQED.
But the Trump administration pushed on.
We now know the result — one that doesn't bode well for salmon and whales under the Trump administration's current plan.
On July 1, Rea's agency sent a copy of a 1,123-page "biological opinion" up the Trump administration's chain of command.
Biological opinions are the scientific documents that are used to set the ground rules for how much water is released from dams and how much can be pumped downstream.
The report says the plan to provide more water for agriculture would spell major trouble for the critically endangered winter-run Chinook salmon. These fish migrate from the Pacific Ocean up the Delta and spawn in the heat of the summer in the Sacramento River below the federal government's Shasta Dam in Redding. Their numbers suffered profoundly in the last drought.
The report says the plan would harm the fish in "each freshwater stage of their life cycle."
"The combined effect of these stressors throughout the life cycle likely has important consequences for the viability of the population," says the report, which was first obtained and reported by The Los Angeles Times this week.
The report says other imperiled salmon runs also are likely to diminish under the Trump administration's water plan. That would be bad news for a small, struggling population of Orcas in the Pacific Northwest because the killer whales feed on adult salmon along the West Coast.
Two killer whale pods are "expected to be harmed through the increased risk of impaired foraging due to decreased Chinook salmon abundance in the ocean," the report says.
The report didn't go over well with the Trump administration.
Within two days of receiving the report, Paul Souza, a regional director of the U.S. Fish and Wildlife Service, sent an email to federal fisheries and water officials, telling them a new team of attorneys and scientists would spend the next two months going over the report with "fresh eyes."
This "important mix of new people," Souza wrote, "have a wealth of relevant expertise — science, law, policy, and regulation."
In an interview with The Sacramento Bee, Souza said the team he brought in wasn't there to sanitize the findings. Instead, he said, they were necessary to ensure they were on sound scientific footing.
"We have hundreds and hundreds of pages of really technical information," Souza said. "When you have documents of this magnitude I always find it helpful to bring in people that can look at it with fresh eyes and help make sure that our logic is clear and that we're putting our best foot forward with the best available science."
The draft report drew swift condemnation from environmental and fishing groups.
They say Interior Secretary Bernhardt is pulling the strings to "adulterate" science and "suppress the document's findings" in order to benefit Westlands, his former client.
Westlands general manager Tom Birmingham didn't respond to a request for comment.
"The Department of the Interior is once again showing its true colors by subverting the scientific process to serve its clients in corporate agriculture, no matter which endangered fish or whales get in the way," Noah Oppenheim, executive director of the Pacific Coast Federation of Fishermen's Associations, said in a statement. "Will the state of California let the Trump Administration strike a brutal blow in the water wars, one that it can see coming, or will it take a defensive stand?"
Souza told The Bee such "criticisms are missing the mark."
"The truth is this is an effort that's being led by career conservation professionals," he said. "We know California water is always an issue that has a tremendous amount of scrutiny and interest. The reality is we just needed more time to get it right."
Souza said federal fisheries officials have been working since July with their counterparts at Reclamation to revise their plans to ensure better survival rates for fish — a process that has involved two independent scientific peer reviews.
He said he hopes to have the final documentation ready in two to three weeks.
Farm groups say they're optimistic the latest scientific analyses will better serve fish whose numbers continue to drop, despite the cuts to agriculture's water supply.
"They're not working," said Mike Wade, executive director of the California Farm Water Coalition. "The fish populations continue to decline. There's got to be more to it than simply redirecting water."
Like anything to do with a dispute over California water, attorneys will probably end up being the biggest winners.
The report and the maneuvering inside the federal government are almost certain to play a role in the inevitable lawsuits that will get filed once the Trump administration issues a final biological opinion.
Environmental groups promise to sue should the Trump administration decide to press ahead with its plan to send more water to farmers. If the administration holds back, farming groups will likely file their own legal challenge.
It can take years to sort water fights out in court.
In the meantime, the findings in the draft report could put more pressure on California lawmakers to pass a controversial bill that would make Trump administration environmental rollbacks illegal under California law.
Senate President Pro Tem Toni Atkins, D-San Diego, told The Bee last week her Senate Bill 1 is necessary for California to have an "insurance policy against the exploitation of our natural resources and our people."
The bill, which is likely to spark a flurry of lawsuits of its own, faces an uncertain future in the California legislature.
SB 1 passed the State Senate in May.
But with the clock ticking toward the end of the legislative session in two weeks, the bill hasn't yet advanced out of the Assembly Committee on Appropriations.
https://www.sacbee.com/news/local/environment/article234220102.html#storylink=cpy
Researchers May Save Salt-Plagued Farmlands
A group of researchers may have found a way to reverse falling crop yields caused by increasingly salty farmlands throughout the world.
Led by Brent Nielsen, professor of microbiology and molecular biology at Brigham Young University, scientists have used bacteria found in the roots of salt-tolerant plants to successfully inoculate alfalfa plants against overly salty soil.
"We take the roots of these salt-tolerant plants (called halophytes), grind them up and grow the bacteria in a petri dish in the lab," Nielsen said. "Doing this, we isolated over 40 different bacteria isolates, some of which can tolerate ocean-level salt content."
The team then applied the bacteria isolates to alfalfa seeds through a solution and tested the alfalfa's ability to grow in high-saline conditions. They saw significant growth of the alfalfa both in their lab and in greenhouse experiments carried out by collaborators at the Institute for Advanced Learning and Research in Virginia.
The study identifies two specific bacteria isolates — Halomonas and Bacillus — that worked to stimulate plant growth in the presence of 1 percent sodium chloride (salt), a level that significantly inhibits growth of uninoculated plants. This discovery is significant since soils throughout areas of China, Australia and the Middle East have grown increasingly salty, as well as major farmland in the southwest United States.
"As an area of land is repeatedly used for farming, the salinity rises; the irrigation water has salt in it and when it evaporates or is taken up by the plants, the salt is left behind," said student Caitlyn McNary, one of six BYU undergraduate co-authors on the paper. "With what we've found, lands that are now unable to sustain plant life due to high salinity could once again be used for crops."
In addition to the work on alfalfa, America's No. 4 crop, the research team has already started to conduct lab and greenhouse experiments on rice, green beans and lettuce. The next step is to carry out field trials on the inoculated crops.
The lab work for the research, recently published online in Frontiers in Microbiology, was carried out primarily by six BYU undergraduate students: McNary and fellow first author Jennifer Kearl, Emily Colton, Steven Smith, Jason West and Michelle Hamson. BYU Plant and Wildlife professor Zachary Aanderud, and Scott Lowman and Chuansheng Mei of the Plant Endophyte Research Center also served as a study co-authors.
"We've long wondered if increasingly salty land was just a losing battle or if there was something we could do about it," Nielsen said. "Now we have shown there is something we can do about it."
https://www.eurekalert.org/pub_releases/2019-08/byu-ssi082219.php
Legal Cannabis Tax Revenue Up 21%, But "Not Surprising"
Legislative Analyst's Office & PoliticoPro
California pulled in an estimated $317 million in cannabis tax revenues during the 2018-19 fiscal year, including $97 million over the fourth quarter, according to a report released by the Legislative Analyst's Office Thursday.
That number exceeds projections made by the LAO in late May that the state would receive an estimated $307 million the year. Gov. Gavin Newsom's enacted budget had forecast $288 million in tax revenue, a calculation made by the Department of Finance during the May budget revision.
While the $317 million figure is less than half of the $630 million in annual revenue projected by Gov. Jerry Brown's administration in January 2018, the state has seen taxes quickly rise each quarter. The $97 million total is 21 percent higher than the $80 million collected in the third quarter, and roughly double what the state brought in during the final quarter of 2017-18 fiscal year.
LAO economist Seth Kerstein, who wrote the report, said while rapid revenue increases are rarely seen by his agency, it's not surprising in this case given the volatility of the newly legal cannabis market. He pointed to a number of challenges, from the widespread black market to changing consumer mindsets about the legal industry, as setting cannabis revenues apart from the norm.
"All of these things make us think that what we saw in the first several quarters probably reflects lower revenues than what we'd eventually expect to see," he said.
The California Department of Tax and Fee Administration also released figures Thursday for cannabis tax revenues over the last quarter, estimating the state brought in a total of $144.2 million. That number includes $47.4 million in general sales taxes paid by consumers on cannabis products, along with the $97 million in cannabis excise and cultivation taxes.
Kerstein said the LAO doesn't include sales tax in their calculations because that revenue goes to the state's general fund, rather than the California Cannabis Tax Fund. The original $630 million projection also didn't take sales tax into account.